Autumn Statement detail confirms construction value of PFI priority schools cut from £2bn to £1.75bn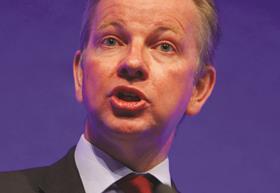 The government has cut the PFI element of its flagship school building programme by over 10% to £1.75bn.
The Priority Schools Building Programme (PSBP), the first programme to use the government's revamped PFI funding route, was initially valued at around £2bn in up-front construction costs when it was launched by education secretary Michael Gove in July 2011.
However, the detail of the Autumn Statement revealed that the total estimate for the construction cost of the schools in the PFI element of the programme has fallen to £1.75bn.
The £1.75bn figure includes the capital cost of building the schools and the costs of fittings and equipment.
Government sources insist the move simply reflects a more recent and therefore more specific estimate of the value of the schemes expected to take part in the priority schoolsprogramme, and that no schemes have been dropped from the programme.
"We now know how many schools will be involved hence more specific, accurate costing. Nothing has been cut," a government source said.
"Over the life of the PFI contracts there will be considerable extra investment from maintaining the schools that are built."
However, maintenance spending is separate to capital investment and contractors waiting for news on the programme may ask why new schemes have not been added to the programme if either project costs have reduced or possible schemes fallen away.
The move comes as the government announced a further £1bn schools capital boost, with the cash part of a wider £5.5bn infrastructure injection.
The government said the £1bn would be used to fund the expansion of existing "good schools", including maintained schools, as well as up to 100 new academies and free schools.
It is understood that the money will be treated as an entirely new funding pot, managed by the Department for Education, with local authorities expected to make bids into the fund and cash awarded to the areas experiencing the greatest need.