Building launches campaign in support of remaining in the EU, following survey of 1,300 industry professionals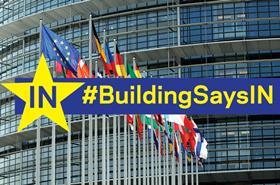 Building has come out in support of remaining in the EU, as we reveal the results of an extensive survey of more than 1,000 construction professionals which shows two-thirds of the sector supports staying in.
The survey of 1,300 professionals found 63% believe remaining in the EU would be the best outcome for the construction sector, way ahead of 21% who thought leaving would be better and 16% undecided.
It also reveals fears about the risks to the sector's recovery in the event of a Brexit, with respondents citing major concerns around a potential fall in foreign direct investment, higher labour and materials costs, and house-price volatility.
The official Remain campaign - Britain Stronger in Europe - welcomed our survey results. Helen Hayes MP, vice chair of the cross-party group for the built environment and a former partner at architect Allies & Morrison, said it "demonstrates the importance of the European Union to Britain's construction industry".
Following the survey results, Building is launching a campaign this week to amplify the industry's view, and is calling on companies to sign up to an open letter backing "Remain" in the coming weeks.
This week, Shard contractor Mace, the UK's largest independent engineer Mott MacDonald and property giant JLL were among those who signed up.
Mace chief executive Mark Reynolds told Building: "I believe it is of vital importance for both the construction industry and UK plc that we remain in the EU.
"Not only does membership of the EU give us access to the European market, which allows us to export services and recruit the best talent, but leaving the EU will deter investment and add further delay to infrastructure decisions that are crucial to the country's long-term economic future."
Mott MacDonald chairman Keith Howells said leaving the EU would exacerbate an already damaging skills shortage in the industry, and could affect his business.
He said: "I think we would face quite a significant skills shortage if we opt out [of the EU]. We employ quite a number of EU nationals. A lot of young people have come here from Greece, Spain and Italy, got masters degrees, and put themselves on the local market. What's the impact going to be on them? We're all in the dark."
Other firms who have signed up to our campaign include cost consultants Rider Levett Bucknall and Alinea and project manager Tower Eight, while engineer and AKT II co-founder Hanif Kara, Gleeds Worldwide chairman Richard Steer and Pick Everard managing partner Duncan Green have signed in a personal capacity.
Responding to our survey findings, MP Hayes added that Brexit would mean cutting off "vital" EU funding for UK construction projects.
As Building went to press, Vote Leave, the official Leave campaign, was unavailable for comment.