Branch president lodges complaint to Certification Office after ruling that union breached law in 2011 vote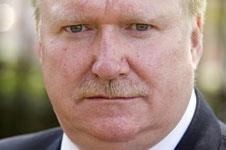 Construction's largest union is facing a fresh challenge to its disputed 2011 election result.
Building revealed last week that unions watchdog the Certification Office (CO) had ruled that Ucatt breached the 1992 Trade Union and Labour Relations Act by barring former general secretary Alan Ritchie and former regional officer Mick Dooley from last December's leadership election.
Despite the ruling, the watchdog did not order a re-run of the election - in which Steve Murphy was elected general secretary - on the grounds that Ritchie and Dooley are no longer members of the union and therefore are unable to take part.
However, Noel Kelly, president of Ucatt's Brixton branch, has lodged a complaint with the CO alleging that the union's decision to bar Dooley and Ritchie deprived members of a fair vote
Kelly said: "What's amazing people is that the CO originally ordered a re-run of the [2009] Dooley-Ritchie election and then neither of them were able to stand."
The CO confirmed that it had received Kelly's claim and added it was in the "enquiry stage" and no decision had been made as to whether to hold a formal hearing.
The 2011 vote is the second successive election to come under the challenge, after the CO ordered a re-run of the 2009 election contested between Ritchie and Dooley after it discovered ballot papers were sent to less than half of the unions' claimed membership.
A Ucatt spokesman said: "The certification officer has not required the union to re-run the election and we are abiding by that decision. The two other candidates are no longer members of the union."
Ucatt has close links with the Labour Party and donated £279,675 to the party and £5,000 to leader Ed Miliband in 2010 according to the Electoral Commission.