Construction's largest union told to investigate allegations that its own president breached campaigning rules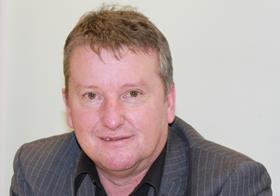 Construction's largest union is facing fresh questions over its disputed 2011 election after the unions watchdog ordered it to investigate allegations that its own president breached campaigning rules.
Watchdog the Certification Office (CO) has ruled that Ucatt must investigate a charge brought by one of its members against Ucatt president John Thompson relating to the election last year, which saw Steve Murphy (pictured) become general secretary.
Member Roy Bentham complained to the union that he had attended a meeting of fellow union members at the Warrington Irish Club last August and that Thompson had made a speech in support of the election of Murphy, in breach of Ucatt rules which state that no member should use their official position to "further the candidature of any person".
Despite claims made by Ucatt that Bentham had failed to bring this charge within 28 days of the discovery of the relevant facts as required, the CO found in Bentham's favour and ordered Ucatt to investigate the charge against Thompson by 10 September.
If found guilty by the union's executive council, Thompson could face disciplinary action ranging from a small fine to exclusion from Ucatt, but does have a right of appeal.
Last month, the CO ruled that Ucatt had wrongly excluded two candidates from the 2011 election - its former general secretary Alan Ritchie and former regional officer Mick Dooley.
Although the the watchdog decided not to order a re-run of the election on the grounds that Ritchie and Dooley are no longer members of the union and therefore are unable to contest a re-run race, this was recently challenged by Noel Kelly, president of Ucatt's Brixton branch.
Kelly has lodged a complaint with the CO alleging that the union's decision to bar Dooley and Ritchie deprived members of a fair vote.
Ucatt and Thompson declined to comment.