At Buildings Day at global climate summit contractors and developers pledge to limit emissions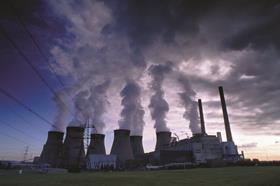 Major contractors and developers have made a series of major pledges to reduce their carbon emissions today during Buildings Day at this week's global climate summit in Paris.
Today's event was designed to get the buildings and construction sector to take action to reduce emissions in the built environment.
Heavyweight firms including Lendlease, Skanska, Carillion, Laing O'Rourke, Morgan Sindall and Sir Robert McAlpine have made commitments to reduce their carbon footprint and/or improve their energy efficiency.
The firms realise there is a greater risk to their bottom line by not doing anything

Terri Wills, WGBC
The pledges have been corralled by the World Green Building Council, with 20 national Green Building Councils (GBC) committing to renovate or certify over 1.24 million m2 of green building space and train over 120,000 qualified green building professionals by 2020.
All 74 GBCs have committed to achieve net zero carbon on new building and energy efficient refurbishment of the existing building stock by 2050. In particular, Lendlease has committed to delivering two major carbon net positive developments by 2020, one of which will be its £3bn Elephant Park scheme in London.
The commitment means that the developments will act to reduce overall carbon emissions by producing more low-carbon energy than they consume.
On the contracting side, the firm has also committed to building all of its projects to the top two sustainability certifications, such as BREEAM in the UK and LEED in the US, in markets where the firm is a contractor.
Speaking to Building ahead of Buildings Day, World Green Building Council chief executive Terri Wills said construction firms, rather than governments, are "really leading" on reducing emissions from the built environment. She said: "We've actually seen the most from the UK; their commitments are tremendous. I think they realise there is a greater risk to their bottom line by not doing anything."