But report warns government austerity remains a "signficant barrier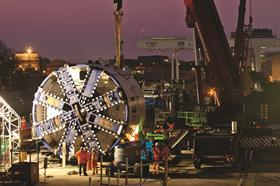 The United Kingdom is the world's most attractive country for infrastructure investment but availability of funding for new projects is hampering opportunities, according to new research.
International law firm Nabarro's latest infrastructure index puts the nation at the head of a 20-strong league table of countries from all five major world regions.
The ranking is based on factors including the tax environment, availability of credit, legal environment, ease of doing business, and current activity in the infrastructure market.
Countries' environmental performance, ecological sustainability and innovation are also evaluated.
In the latest list, Australia was second to the UK, with France in third position, the United States fourth and Germany fifth.
The United Kingdom also took top place in a sub-index ranking nations' sustainability and innovation, and was second only to the United States in a ranking based on ease of doing business.
But Nabarro said that despite the positive outlook the coalition government's "openly austere" stance was a "significant barrier" to those looking to invest, and that recent policy initiatives needed to be fully implemented for investors to take advantage of the nation's "favourable environment".
Head of infrastructure Matthew Jones said the global appetite to invest in upgrading UK infrastructure assets or in new projects was readily apparent.
"There is a huge pot of money to invest in upgrading assets, which exceeds assets available, but funding for new projects has been particularly challenging," he said.
"Given recent policy initiatives, such as the National Infrastructure Plan of November 2011 and 2013 UK Budget Infrastructure Delivery Update to boost the sector, we may see that the infrastructure sector is a net winner.
"However the UK needs to make sure it has a favourable enough tax and regulatory environment to maintain its place at the top of the list if it wants to be there next year."
Jones added that while the so-called BRICS nations had massive growth potential, each had significant regulatory and economic constraints that hampered foreign investment in infrastructure. China ranked 6th on the list, Brazil 7th, India 8th, South Africa 9th and Russia 10th.
Jones said that although Middle Eastern and North African nations did not achieve any rankings in the top half of the list and were considered "high risk" by credit-rating agencies, all of the featured Middle Eastern nations spent comparatively more on infrastructure than European nations.
Israel ranks 11th on the list, followed by the United Arab Emirates at 12th. Qatar – which is allocating 12% of its GDP towards infrastructure related to hosting the 2022 World Cup, was ranked 15th.