Ucatt wants extreme weather rules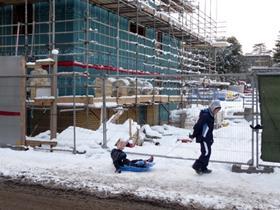 Union Ucatt is calling for construction sites to be closed in harsh winter conditions to protect construction workers and has hit out at the lack of care provided to them.
The union, which is to merge with the larger Unite union under a deal wrapped up by this January, said it had written to the National House Building Council (NHBC) to request that it introduce clear rules for workers operating in extreme weather as it has done for the care of materials.
"The NHBC makes it clear mortar should not be used below 2 degrees C, whilst construction workers should put their gloves on, get out there and suffer," Ucatt said.
Currently there is not legal minimum or maximum temperature for people working outside.
The unions are also negotiating to have rules or guidance on working in extreme weather included in the Construction Industry Joint Council agreement.
Brian Rye, acting general secretary of Ucatt, said: "Meteorologists are predicting a very severe winter for the UK – so we call on the NHBC to show some leadership and make a long-overdue change in the housing building industry."