Student accomodation developer launches bid to raise £50m on the stock exchange to help fund £125m spending on development opportunities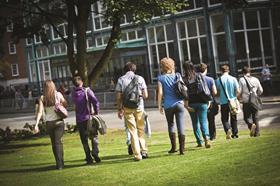 Student accomodation developer Unite has launched a bid to raise £50m on the stock exchange to help fund a proposed £125m spending spree on development opportunities outside of London.
The firm said it had identified a number of "compelling" development sites within "highly targeted" cities that could yield approximately 2,500 bed spaces.
Unite proposes to fund the acquisition of the development sites and build out through a £50m stock market placing and a further £75m of debt
It sid the sites would yield approximate profit margins of 9.5-10% on cost, which compares to current typical yields of 6.5-7% in regional cities.
The firm said it intends to issue 16,000 shares at 25p each to invited organisations, representing about 10% of the value of the company.
To demonstrate the opportunity Unite said its two most recent regional developments, both on site currently at Kingsmill Lane, Huddersfield (378 beds) and Trenchard Street, Bristol (442 beds) were now expected to deliver yield on cost in excess of 10%.