Developer to build two new student accommodation schemes in Liverpool and Aberdeen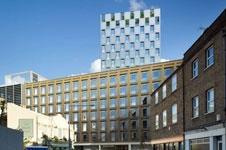 Student accommodation developer Unite Students has acquired two development sites where it plans to invest £80m in building new student accommodation schemes.
The two sites in Liverpool and Aberdeen will house a total of 1,250 students once the schemes are complete in 2017.
The developer - which also has schemes in London (pictured), Bristol and Manchester - said the central city sites were both in cities that had "large and growing student populations which underpin market fundamentals".
Richard Simpson, managing director of property for Unite Students, said the acquisitions were "in line with Unite's development strategy".
He added: "The acquisition of these sites means that we have now secured approximately 60% of our target 2017 pipeline, providing greater visibility of our future earnings growth."