Britain's biggest union pledges new campaign against £15bn project linked with the blacklisting scandal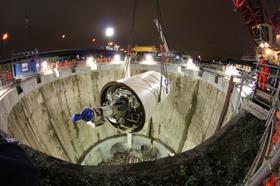 Britain's biggest union is to launch a major campaign against Crossrail after accusing it of neglecting workers' rights and failing to investigate claims that blacklisting is taking place on the £15bn project.
Speaking at the annual general meeting of the Blacklist Support Group on Saturday, Unite general secretary Len McCluskey highlighted the case of Frank Morris, a former Crossrail worker and Unite activist who claims to have been blacklisted and dismissed in September for raising health and safety concerns.
McCluskey also complained that Crossrail had not signed one "single union agreement" with the trade unions.
His comments follow Building's exclusive revelations that two senior human resources managers working on Crossrail had close links with The Consulting Association (TCA), the blacklisting firm closed down in 2009.
In November, Building reported that Crossrail's industrial relations manager Ron Barron was an established blacklister and point of contact with TCA in his former human resources role at the contractor CB&I. Barron, who was employed by Bechtel to work on Crossrail, left his post shortly after Building's story was published.
Then, earlier this month, it emerged that Pat Swift, previously the human resources contact for TCA at Bam Nuttall, is now human resources manager for Crossrail's western tunnels contractor BFK - a joint venture comprising Bam Nuttall, Ferrovial and Kier.
Unite will now mount a "leverage" campaign to lobby those connnected to Crossrail and its contractors over what it views as their poor treatment of its members.
Speaking before Saturday's meeting, McCluskey said: "Our message to the blacklisters and to Crossrail is that you now face the full power of Unite.
"Over half of the surviving companies which were members of the blacklisting organisation called the Consulting Association work on the Crossrail project. It is time the blacklisters were exposed. The contractors will be exposed and the individuals who have had a hand in blacklisting will also be exposed.
"It is wrong for Europe's biggest construction project to ride roughshod over workers' rights. Time and time again we have given Crossrail the opportunity to work constructively with us to implement a union agreement which would deliver stability and safety. Instead we have significant evidence of blacklisting on the site and a series of unacceptable and avoidable accidents with one worker being left with severe burns across his body.
"Enough is enough, it is time for Crossrail to cooperate with Unite to deliver union recognition and re-employ the union members who have been sacked for supporting their colleagues."
Morris, an electrician with a young family, was working as a union shop steward at Crossrail's Westbourne Park site for tunnelling specialist EIS, a subcontractor of BFK.
He claims that he and others were victimised for raising concerns about the potential overloading of the escape chamber on the huge boring machine being used, which would provide a potential refuge for workers in the event of a major emergency such as a fire.
He is now pursuing an employment tribunal against EIS, BFK and Crossrail and is being supported by Unite.
A spokesperson for Crossrail said: "The formation and use of the Consulting Association by the construction industry up until 2009 was an indefensible practice. Unite claims to have evidence of blacklisting on the Crossrail project and yet none has been forthcoming despite repeated requests. Only last week Unite was a signatory to a national agreement with the UK construction industry against blacklisting, with other signatories including key companies working on the Crossrail project.
"Crossrail Limited is not aware of, and has seen no evidence of, blacklisting of any kind in connection with the Crossrail project. All contractors working on Crossrail must comply with the law which explicitly outlaws the blacklisting of construction workers. Crossrail has written to the trades unions on several occasions clearly setting out our commitment to taking firm, decisive and immediate action if any substantive evidence can be presented."