Worker at centre of row given new job on £15bn project as contractor BFK and union Unite issue joint statement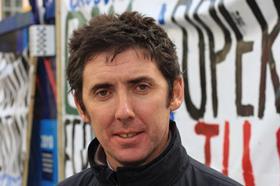 A year-long row over alleged blacklisting on the £15bn Crossrail project ended today with an agreement which will see the sacked worker at the centre of the dispute given his job back.
Following a high-profile lobbying campaign mounted by Britain's largest union Unite against Crossrail joint venture contractor Bam Ferrovial Kier (BFK), the two parties today announced that they had "successfully concluded matters" between them.
Building understands the deal will see Frank Morris - the electrician whose dismissal from tunnelling work in Westbourne Park last September sparked a major protest and an employment tribunal - handed a new electrician's role on Crossrail's Liverpool Street station.
In a joint statement, Unite and BFK pledged to work closely together to provide "transparent working practices" including safeguarding the right of workers to join a trade union but added they were agreed "there has been no contravention of the blacklisting regulations on the BFK Crossrail projects".
This comes less than two months after business secretary Vince Cable asked the information watchdog to investigate allegations blacklisting by BFK on Crossrail following what a commons select committee called "clear proof" that it was taking place.
Morris claimed that he and other workers for BFK's subcontractor and tunnelling specialist EIS, were sacked last autumn because he - as a union shop steward - had complained about one of the tunnel boring machines at Westbourne Grove being overloaded with workers.
Crossrail however argued that it had seen no evidence of blacklisting and that EIS had made 28 workers including Morris redundant because its contract with BFK had come to an end.
Today's statement added: "BFK acknowledge that the conclusion of the EIS contract could have been handled better."
Morris's protest - which began with him standing outside Crossrail sites around London every morning to draw attention to his plight – eventually turned into an international lobbying effort after Unite began a intensive 'leverage' campaign in March.
This included protests directed at Bam, Ferrovial and Kier shareholders and meetings with high profile politicians around the world.
Last month, Morris and fellow blacklisting campaigner Steve Acheson even travelled to Chicago to discuss blacklisting with Senator Dick Durbin, the majority whip in the US Senate and a close ally of President Obama.
Andrew Wolstenholme, Crossrail chief executive said: "Blacklisting is indefensible, unacceptable and unlawful. Over the last year, the Unite union has made a series of misleading and unsubstantiated allegations concerning blacklisting on the Crossrail project.
"By their own admission, Unite advised the Scottish Affairs Committee that their evidence was circumstantial and was not sufficient to prove blacklisting.
"Unite has now issued a joint statement with our western tunnels contractor BFK stating that no blacklisting has taken place."
But a Unite spokesman challenged Wolstenholme's statement: "Whilst we cannot comment on the resolved dispute surrounding Frank Morris, it is important to correct Crossrail's press release which wrongly states that Unite has said there has been no blacklisting at Crossrail.
"What Unite clearly said is there have been no breaches of the current regulations. We believe this indicates the weakness of the current legislation."
BFK and Unite Joint Statement in full:
"Today, Unite the Union and the BAM Ferrovial Kier Joint Venture (BFK) are pleased to announce that they have successfully concluded matters between them in relation to BFK's Joint Venture on the Crossrail projects.
BFK acknowledge that the conclusion of the EIS contract could have been handled better and BFK and Unite have agreed to work together to continue the provision of transparent working practices including safeguarding the right of workers to choose whether or not to join a trade union.
BFK and Unite agree that there has been no contravention of the Blacklisting Regulations on the BFK Crossrail projects.
BFK and Unite are committed to improving ways of working together.
The above allows BFK and Unite to further build upon their working relationship for the good of all involved and both parties look forward to working with each other in the future."