Shortlist includes bids from Laing O'Rourke, Balfour Beatty and Severfield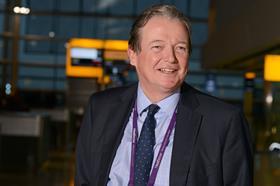 The man in charge of building the third runway at Heathrow has said the airport will shortlist up to 20 bids for the chance to become one of the four offsite logistic hubs that will be used to help build it.
In all, 65 sites are competing for the work to help build the west London airport's third runway with the contenders due to send in their PQQs by the end of this week.
Heathrow expansion director Phil Wilbraham said between 10 and 20 sites will be chosen to work up bids in the spring with the four winners due to be named early next year.
Among the bids on the shortlist are pitches from sites owned by Laing O'Rourke, steelwork contractor Severfield, Balfour Beatty and Tarmac.
A number of port operators including Peel Ports and Forth Ports are also in the running along with airports including Glasgow Prestwick and Leeds Bradford as well as a host of local councils and enterprise partnerships.
Wilbraham (pictured) told Building the hubs will be used to keep the number of site workers required at Heathrow down to around 10,000 people.
"If we constructed it [the new runway] like we did T5, there would be around 15,000 on the site at any one time."
The bids are concentrated around the UK's major manufacturing centres with just four coming from London and the South-east.
Wilbraham added: "One of the reasons for the hubs is to spread work around the country. We don't want to use labour just from the South-east."
The hubs will be mainly used for the building elements of the job which has an overall £14bn pricetag. Wilbraham said some civils work can be carried out offsite with the remaining work such as demolition and earthworks being carried out on site.
"Basically, it's a massive civils project and then a massive building project," Wilbraham said.
He said Heathrow was talking to other major infrastructure schemes such as Hinkley and HS2 about sequencing work. "We're quite keen HS2 get on with their earthworks so ours follow those," he added. "We don't want to get into a situation where we run out of equipment and people."
Main construction work is scheduled to start in 2022 with the new runway due to open at the end of 2026 with the entire scheme due to be completed in 2033.