Regeneration developer will also restart housing sites including Park Hill in Sheffield
Manchester-based regeneration developer Urban Splash is to re-open its modular factory and construction sites, the business has said.
Urban Splash chair Tom Bloxham said the firm was remobilising sites including Park Hill in Sheffield, New Islington and Avro in Manchester and Port Loop in Birmingham, as well as the Wirral Waters scheme, with additional "social distancing" measures to ensure safe working.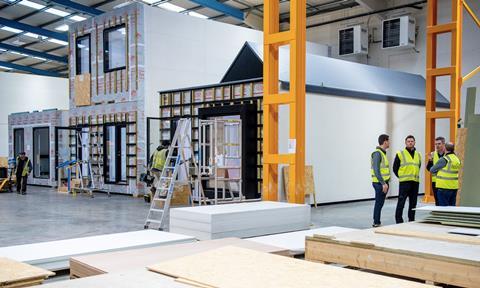 The firm will also reopen its modular factory joint venture (pictured) with Japanese builder Sekisui House and housing quango Homes England, known as House by Urban Splash.
Bloxham said the news meant that many furloughed workers would be returning to work, adding that the five shareholding directors in the firm were each taking a 30% pay cut.
Urban Splash announced the temporary closure of all its sites and the factory three days after the UK was put into lockdown by Boris Johnson.
The news comes a week after insurance giant L&G announced it had reopened its modular housebuilding factory at Sherburn-in-Elmet, near Leeds.