Regeneration specialist plans to develop accommodation for 350 students at the grade II* listed estate
Urban Splash has teamed up with student housing speclialist Alumno Developments to deliver the third phase at its revamp of Sheffield's grade II* listed Park Hill estate.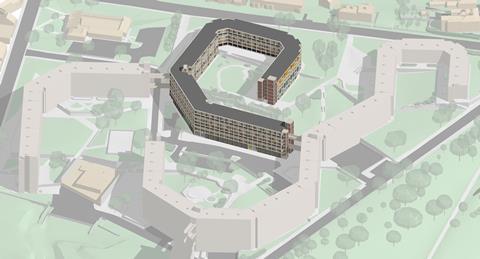 This phase (pictured left) being designed by Whittam Cox Architects and will encompass 350 student beds along with shops and other facilities.
Urban Splash began its redevelopment of Park Hill in 2007 and has already completed phase one at the scheme for which Hawkins Brown and Studio Egret in 2013 were shortlisted for the Stirling Prize.
It recieved planning permission in December for phase two, designed by Mikhail Riches, which includes 200 new homes, workspace and landscaping. Work on this will start in the summer.
The initial phase three proposals seek to reconfigure existing flats and maisonettes into groups of four and eight bedrooms with shared living spaces, based on what the project team calls "an innovative three-storey townhouse model". Properties are envisaged as being ready to occupy for the 2020-21 academic year.
Two further phases are anticipated to follow the student housing element, including both open-market and affordable homes, art space, and new commercial space.
Urban Splash, Alumno and Whittam Cox are due to begin consultation work on the phase three proposals with local residents next month.