UL and the UK's Fire Protection Association are looking to open new large-scale testing facility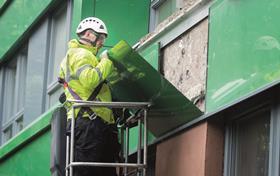 UL, a US-based safety science organisation, and the Fire Protection Association, the UK's national fire safety organisation, are set to open a new large-scale testing facility at the FPA's operation in Moreton-in-Marsh.
UL and the FPA have signed a cooperation agreement which will also include an investment by UL in the FPA's existing fire test and research facilities in Gloucestershire.
Details around the level of investment were not revealed.
Currently, the only UK-based facilities capable of testing facades for fire resistance are booked up at least six months in advance, driving many building product manufacturers to seek testing and accreditation outside of the UK.
Chris Miles, business manager for UL in Europe, told Building his firm was an advocate for large-scale testing but that the BS 8414 test, which has been heavily criticised following the Grenfell fire, was likely to be strengthened.
"The American testing system is more stringent than the current British test. I would probably say the British test is not robust enough. A new standard really needs to be robust," he said.
Miles said it was unlikely that work on the new testing facility would start until the government's consultation on combustible cladding reached a conclusion.
Many experts are expecting the consultation to recommend a "belt and braces approach" which would see mandated large-scale testing alongside a ban on combustible cladding.
In addition to testing and certification of building systems to UK, EU and US requirements, UL will be able to offer building envelope inspection services and additional forensic services for building owners concerned about cladding, insulation and other materials.
Miles said it was important that fire safety standards were improved.
"UL wants to play a major role in elevating the standards of fire safety," he said. "It's at quite a low level and that needs to change."
Miles also said it was important that the product testing sector came together, saying isolated efforts to change fire safety standards would be ineffective.
He said UL had been meeting with MPs and other testers including BRE to discuss new fire standards.