HDR has bought more than 60 companies since MBO from Bouygues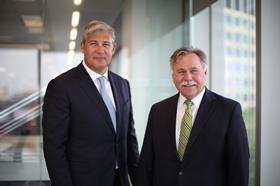 The new owner of Hurley Palmer Flatt has said it is interested in more firms in the UK after wrapping up its deal for the consultant last month.
HDR chief executive Eric Keen confirmed the US business had taken a 100% stake in Hurley Palmer Flatt, which celebrated its fiftieth anniversary last year, 18 months after the pair first made initial contact.
Keen (pictured right) said the deal for the 500-strong Hurley Palmer Flatt meant it would be ramping up its interest in the UK which has previously been restricted to a handful of jobs including work on the bio research centre, the Roslin Institute in Scotland, four years ago.
"There are opportunities to expand here in the UK," Keen said, adding that HDR has bought more than 60 firms since an MBO from previous owner Bouygues in the mid-1990s including Dusseldorf-based architect TMK in 2013 where it has 300 staff working out of six offices.
Keen said the UK remained an attractive market despite the ongoing political uncertainty. "Brexit is going to be a moment in time," he added.
The Nebraska-based engineer, which has a $2bn turnover and employs over 10,000 people, first made contact with Hurley Palmer Flatt early last year after the latter began to look in the US for potential acquisitions.
Managing director Paul Flatt (pictured left) said the firm had up to £10m to spend but eventually began talking to HDR about a takeover.
No figure has been put on how much HDR has paid but in the year to March 2019, Hurley Palmer Flatt had a turnover of £50.6m and earnings of £7.5m.
Keen said Hurley Palmer Flatt, whose recent jobs include developer Brookfield's schemes at London Wall and the Foster + Partners-designed Principal Place on the edge of Shoreditch, would target jobs in the water, oil and gas and transport sectors such as HS2 and Crossrail.
It has 230 offices with 200 of these in the US while 90% of its turnover comes from its home market.