Firm says overall performance is still on track to meet profit targets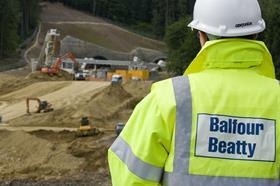 Cost increases on a number of contracts will hit profits at Balfour Beatty's utilities division in the first half of the year, according to a trading statement issued today.
In addition, the contractor said that performance in the rail portion of its construction services division had been "weak" in the six months to 29 June.
The firm said that it had seen "cost increases in a small number of contracts in the utilities sector. As a result of this shortfall, support services profitability will be further skewed to the second half of the year."
However, the company said both issues had been offset by better than expected performance elsewhere in the business, including receipt of £10m more than expected from the firm's PPP asset disposal programme. It said it had also seen "strong" performance in the joint ventures run by the construction services division.
The trading updates comes ahead of first half results expected on August 15, and follows a major restructure of Balfour Beatty's 12,000-strong construction services division with the loss of 650 jobs, finalised in May.
The firm cited the challenges posed by "continuing uncertainty around governments' investment decisions and the absence of larger, more complex projects." Overall it said there had not been "any material change" in trading conditions since its most recent Interim Management Statement on 9 May 2012.