Clients awarded £5.1bn worth of work compared to around £6.1bn the month before
Clients handed out around £5.1bn of construction work in August – down by £1bn from the month before, Glenigan data has revealed.
The figures (see Building Boardroom) reveal that the most work was awarded in the commercial sector, with firms here inking deals worth just under £1.3bn – or around 21% of all work awarded in the month.
After commercial, the next most prolific sector was private housing, with clients here awarding firms £929m of business.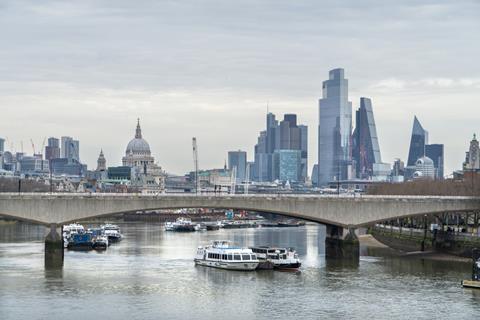 This was followed by those in the infrastructure and social housing sectors, at around £777m and £468m respectively.
Meanwhile, the data also revealed that £7bn worth of projects were approved in August, down 19% on the £8.69bn approved in July.
The private housing sector was the market with the highest value of projects given the green light, with permission secured for 290 schemes worth almost £2.52bn.
After private residential, industrial achieved the second highest value of approvals at just under £2bn, followed by commercial at £848m.
Overall, the client to receive planning permissions with the highest value was the Gateway 14. It had one industrial scheme worth £687m given the green light, a major industrial park in Norwich.
Top spending clients - August 2021
The data above and below is a sample of the information on contract awards by sector for June put together by Glenigan. It represents just a small part of the client intelligence that is accessible through the Building Boardroom Network.
Infrastructure
| Ultimate Company Name | Total number of projects | Total value of projects |
| --- | --- | --- |
| Department for Transport | 5 | £242m |
| Blyth Valley Housing Limited/Ethical Partnership - Planning & Sustainability Consultants/Network Rail Limited | 1 | £166m |
| Network Rail Limited | 3 | £94m |
| London Oxford Airport | 1 | £80m |
| West Sussex County Council | 1 | £55m |
Education
| Ultimate Company Name | Total number of projects | Total value of projects |
| --- | --- | --- |
| Fife College | 1 | £90m |
| City of Edinburgh Council/Currie community High School | 1 | £45m |
| Department for Education | 4 | £38m |
| Rhondda Cynon Taff County Borough Council | 2 | £21m |
| Cornwall Council/South Crofty Multi Academy Trust | 1 | £19m |
Hotel and leisure
| Ultimate Company Name | Total number of projects | Total value of projects |
| --- | --- | --- |
| London International Exhibition Centre | 1 | £115m |
| Spelthorne Borough Council | 1 | £30m |
| Perth & Kinross Council | 1 | £20m |
| Chigwell School | 1 | £16m |
| Harrogate Borough Council | 1 | £13m |
Industrial
| Ultimate Company Name | Total number of projects | Total value of projects |
| --- | --- | --- |
| Siemens Plc | 2 | £50m |
| Bridges Fund Management/Chancerygate | 1 | £35m |
| Db Symmetry | 1 | £29m |
| Legal & General Group Plc/Panattoni & LU UK V Sarl | 1 | £20m |
| St Modwen Properties Plc | 1 | £20m |
Medical & scientific
| Ultimate Company Name | Total number of projects | Total value of projects |
| --- | --- | --- |
| Department of Health | 27 | £118m |
| Larch Life Ltd c/o Orchard/Orchard Care Homes LImited/Principle Care Corporation Ltd | 1 | £9m |
| Central Bedfordshire Council | 1 | £9m |
| Welsh Government | 1 | £8m |
| Natabi Properties Limited | 1 | £7.8m |
Commercial
| Ultimate Company Name | Total number of projects | Total value of projects |
| --- | --- | --- |
| Citibank UK Limited | 1 | £350m |
| Knowledge Quarter Liverpool/Liverpool City Council | 1 | £130m |
| Lincoln MGT | 1 | £130m |
| Barclays Bank Plc | 1 | £80m |
| United Kingdom Atomic Energy Authority | 2 | £70m |
Private housing
| Ultimate Company Name | Total number of projects | Total value of projects |
| --- | --- | --- |
| Bargate Property Limited LLP/Tellon Capital | 1 | £100m |
| Peabody Trust | 1 | £85m |
| Palmer Capital/Wrenbridge Ltd | 1 | £70m |
| City And Docklands Perry Street Ltd | 1 | £65m |
| Co-re/M&G Real Estate/Prudential Uk Real Estate Limited Partnership | 1 | £55m |
Retail
| Ultimate Company Name | Total number of projects | Total value of projects |
| --- | --- | --- |
| Nuneaton & Bedworth Borough/Warwickshire County Council | 1 | £13.3m |
| Lidl UK GMBH | 3 | £9.6m |
| Tottenham Hotspur Plc | 1 | £9.4m |
| British Land Plc | 1 | £8.5m |
| Swansway Garages | 1 | £6.8m |
Social housing
| Ultimate Company Name | Total number of projects | Total value of projects |
| --- | --- | --- |
| Sanctuary Housing Group | 2 | £89m |
| Curlew Alternatives Property L P | 1 | £60m |
| London Borough of Camden | 1 | £22m |
| Unite Group Plc/Unite Students | 1 | £16m |
| Yorkshire Coast Homes | 1 | £15.9m |
The Building Boardroom Network is an easy-to-use portal where you can access a wide range of vital business insight including research and tools to help bring your construction clients to life. Find out more at: https://www.building.co.uk/building-boardroom/

* private housing awards data refers to external contracts only and does not include frameworks
** projects awarded by a joint venture are listed independently to both single party clients