Architects from 60 countries were due to arrive for set-up in Italian city in next few weeks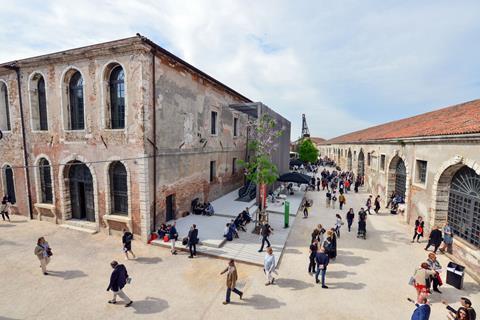 The organisers of the Venice Architecture Biennale have postponed the start of this year's event by three months because of the coronavirus outbreak.
The news follows hot on the heels of the decision to reschedule Mipim, which was attended by more than 6,000 UK delegates last year, to June.
Italy has been the most affected European country with over 3,000 cases and more than 100 deaths.
Yesterday, the Italian government closed the country's schools and colleges until the middle of March and said that all sporting events will be played behind closed doors until 3 April. This means England's Six Nations game next week in Rome will be played in an empty stadium, if it goes ahead.
Biennale organisers blamed the uncertainty cast by coronavirus over international travel and large public gatherings over the next few weeks. This would have coincided with the crucial set-up phase of the event which attracts 130,000 visitors each year.
Participants from 60 countries were due to descend on Venice shortly to begin setting up their work in both the main exhibition and the numerous national pavilions.
Curator Hashim Sarkis said he was unwilling to open an incomplete exhibition so organisers took the decision to postpone the opening.
The event, which was due to open on May 23, will now open on August 29, with previews on August 27 and 28. It will still close on November 29.
Sarkis said a shorter postponement could be ineffective, "considering the complexity of the organisational machine, the number and importance of the subjects involved and the probable absence of many of them".
The decision is likely to leave hundreds of architects and practices out of pocket or facing insurance claims as many - especially the participants - will have already booked travel and accommodation.
The biennale will now open the week before the International Film Festival which could put pressure on the city's ability to accommodate so many visitors at once.
Organisers issued a statement describing the decision as a consequence of the "recent precautionary measures in the matter of mobility taken by the governments of a growing number of countries around the world, which will have a domino effect on the movement of people and works in coming weeks.
"This period of time coincides with the delicate initial phase of setting up an international exhibition as complex as the Biennale Architettura, which involves architects and institutions from over 60 countries on all continents.
"This situation poses a risk to the realisation of the exhibition in its entirety in time for the announced opening date, thereby jeopardising its quality."
Meanwhile, the Norman Foster Foundation announced "with much regret" it was cancelling its annual international forum which was due to be held in Madrid this summer.
It issued a statement saying: "Our board of trustees has reluctantly come to this conclusion in the light of the continuing spread of the coronavirus and in particular its implications on international travel."