A new report into the technologies could see waste cut and government targets met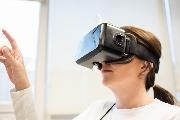 The construction industry could cut its waste and achieve the government's 2025 targets if it adopts virtual reality (VR) and 3D printing technology, according to a new report.
The study for the British Council of Offices by Arup and Arup Associates said: "If the UK construction industry is to come close to the ambitious targets in the government's 2025 construction strategy, there needs to be a re-think about how we design, procure and construct buildings in the future."
The report added: "Design change is a real problem in the industry and contributes to major delays, significant re-work and wastage of material resource."
Virtual reality could aid faster decision making by enabling quicker design comparisons, early identification of design issues and changes before significant work is done, improved understanding of construction sequencing and logistics, and better training to help reduce the cost of mistakes and accidents on site.
However, it noted that the VR experience "can be isolating and less collaborative if poorly managed".
The technology could become a valuable part of the visual mock-up process, the report said, enabling stakeholders to make a first assessment about aesthetics and the qualitative aspects of the project before anything is built, shortening the process and reduce time, labour and material costs.
It could also enable prospective tenants to stand in the shell and core and experience the fit out.
VR is already gaining traction in the industry and contractor Skanska has distributed AR 'hardhats' on UK construction sites, the report said.
3D printing, meanwhile, has the advantages of zero material wastage, quicker build time, cheaper bespoke parts, and a reduction in transportation time and cost.
But the report also identified several limitations, including the immaturity of 3D printing, limited quality assurance, and the large investment required for commercial use.
Potential construction applications include bespoke furniture and fittings, bespoke structural connections and printed façade panels.
3D printing could also be used for moulds, and companies such as Laing O'Rourke were using moulds to cast bespoke concrete and metal parts, the report said.
"3D printing has the potential to revolutionise the way we design and construct our buildings in the future," the report added, as it could turn construction methodology on its head and drive a very different form of procurement.