Team will build 2.13km system running from close to existing station to the airport terminal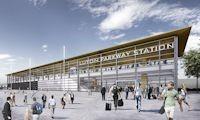 A VolkerFitzpatrick-Kier joint venture has been appointed by London Luton Airport to deliver the main civils package for the airport's new light rail link.
The 2.13km guided mass rapid transit passenger system will run from Stirling Place, close to Luton Airport Parkway station, to the main terminal at Luton Airport.
The JV will build and design viaducts, embankments, cut and cover works and station platforms.
There is also a possibility the project will include some ancillary works such as car parking. Some of the works will be within the airside sections of the airport.
The train system, which was given the green light in July, is due to open in 2021.
The project's approval came as Luton recorded 39 consecutive months of passenger growth, with more than 1.5 million passengers choosing to travel through the airport in June 2017, representing a 6.2% increase from a year earlier.
Luton Borough Council, which is funding the project, has committed a further £110m to transform the airport, increasing its capacity by 50% to meet the rising passenger demand.
The airport schemes are just one part of a £1.5bn council programme that outlines a 20-year plan to revamp the town of Luton.