Joint venture to build Shropshire treatment facility for United Utilities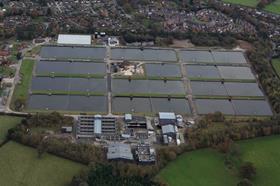 A VolkerStevin and CH2M joint venture has won a £43m design and build contract for a water treatement works in Oswestry.

The project for United Utilities will upgrade an existing facility near the Shropshire town, which treats water from Lake Vyrnwy in north Wales via the Llanforda open reservoir.

Its main elements are a new flocculation/sedimentation basin, chlorine contact tank and clearwater storage tank. Existing rapid gravity filters will be refurbished to cater for an additional 40 million litres of water flow per day.

Darren Hynes, framework director for the joint venture – named C2V+ – said the partners were "delighted" to be appointed to the scheme after being named as one of four construction-delivery partners for United Utilities' five-year AMP6 framework in 2014.

"It demonstrates the collaborative approach between C2V+ and United Utilities whilst providing sustainable employment opportunities for the local economy by creating over 50 jobs over the next two years," he said.

Works on site were due to get under way in the coming weeks, with an overall construction period of two years.