Vaughan Engineering, which blames bust firm for its demise, sent home its 160 staff last Friday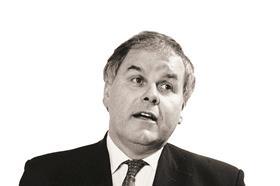 The plight of the M&E contractor pushed to the brink of collapse by Carillion's implosion is set to top the agenda at today's meeting of the Carillion taskforce set up to look into its failure.
The group will meet later this morning at the Department of Business's office on London's Victoria Street amidst warnings more firms face going to the wall in the coming months.
Vaughan Engineering Ltd sent all its 160 staff home last Friday ahead of preparing to call in administrators this week.
The firm said it would be felled by Carillion's implosion 50 years after its Northern Ireland parent set up an office at Broxburn on the outskirts of Edinburgh.
Rudi Klein, the chief executive of the Specialist Engineering Contractors' Group, said: "I will be asking the secretary of state [Greg Clark] about this. Vaughan is the first significant casualty.
"The fear is that more and more will go down this road – either making redundancies or stopping trading altogether. The fact that a firm hasn't gone bust doesn't mean to say everything is alright. It could be up to a year before we know the full impact of Carillion."
Vaughan said it was owed at least £600,000 by Carillion and had been due to carry out more than £1m worth of work for the firm in the first quarter of this year.
Klein (pictured) said another firm, which he declined to name, was owed £9m by Carillion, including £750,000 in retentions, following its collapse in January.
He added: "They are struggling to keep afloat and the reason why they're still going is because they've stored up some cash reserves."
The Carillion taskforce includes representatives from banks, the TUC and other government departments and Klein said he will be asking Clark to ask his counterpart at the Department for Education, Damian Hinds, why Vaughan was still owed £300,000 by Carillion on a school job in Runcorn handed over to the Education and Skills Authority last December.
Klein said: "Government needs to stop hanging around. They need to legislate for project bank accounts and they need to insist that all public sector contracts have 30 day payment clauses."
And David Frise, the new chief executive of the Building Engineering Services Association, said: "The government must not stand idly by and watch more companies go under and more people lose their jobs."
Vaughan, which also had offices in Warrington and Newcastle upon Tyne, posted a turnover of £38m in the year to March 2017, racking up a £2.6m pre-tax loss. But the firm said it had budgeted to make a small pre-tax profit this year.
The company's parent, which was set up in 1955 in Newtonabbey, employs around 250 people and remains unaffected by its sister firm's impending administration. Another sister firm, ductwork contractor Brankin, is also unaffected.