Engineer appointed to do design work under Manchester Airport City framework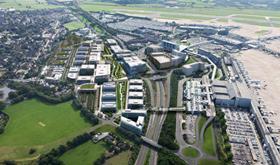 Engineer Waterman has been appointed to do design work on a 100,000ft2 logistics centre and office building at Manchester Airport, the company's chairman has announced.
Roger Fidgen will tell the company's annual general meeting later today that the consulting engineer has won the appointment as part of the framework agreement for the £800m Manchester Airport City development.
He will also say Waterman has recently been commissioned to prepare detailed designs for Helical Bar's 3.2 acre mixed use development at its Barts Square in London.
Fidgen will say construction is due to commence in January on the Central Park residential development for Kennedy Wilson, a nine storey building containing 165 apartments, which it is working on in Ireland.
Fidgen will hail the company's "excellent progress", which was reflected in a 9% increase in the company's technical headcount during the five months since the beginning of the current financial year.
He will say: "We have experienced continued growth in our markets during the first five months of the current financial year.
The board believes that Waterman remains on target to triple the group's adjusted annual profit before tax to £3.3m over the three years to June 2016. We look forward to announcing further progress when our half year results are issued in February 2015."