Nick Taylor closed the Russian office of his company, Waterman Group, one month before Putin annexed the Crimea. He explains why pulling back from developing markets and focusing on the UK is right for the engineer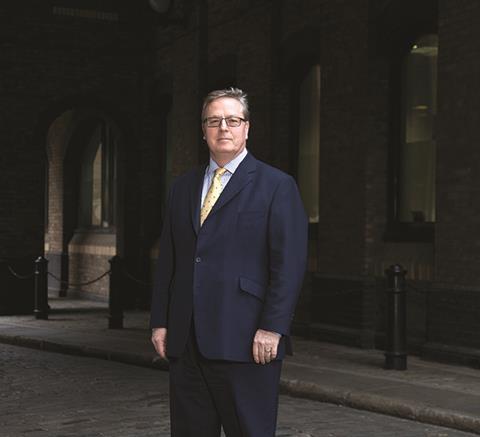 It's February 2014 and Russian forces have rolled into the Crimean peninsula. While the world looked on with concern, Nick Taylor says he felt relieved.
The chief executive of listed engineer Waterman isn't being callous. His mood is explained by the fact that just one month previously he had pulled his company out of Russia, capping a series of exits from emerging market economies. It was a high-risk decision given the way many UK consultants have been rushing in exactly the opposite direction to establish themselves in high-growth markets overseas, and it was one that pushed the firm to a £1.3m loss in the second half of 2013.
But the ongoing instability between Russia and the former Soviet states and the subsequent sanctions regime have only served to justify it. While admitting that he didn't predict how rapidly the situation in Russia would turn sour, the 57-year-old says: "In hindsight, it was one of the best decisions that I ever made."
With the consultancy market consolidating at a breathtaking pace in the last five years, deciding to reduce your geographic spread remains a pretty big call.
Received industry wisdom suggests there are two potential routes to success: become an Aecom-sized behemoth able to serve global clients, or remain small enough to be specialist and/or bespoke. With a turnover of £70m Waterman falls squarely between those two poles. As the firm reaches the midway mark of a three-year turnaround programme, Taylor tells Building not only why he pulled out of emerging markets, but also how market consolidation is opening up opportunities for mid-sized players like his company.
Keep the home fires burning
Founded in the early fifties to benefit from the post-war building boom, Waterman today splits its business roughly 50-50 between work on buildings and work on infrastructure. Structural and building services engineering in the UK account for 25% and 14% of turnover respectively, making this work the lion's share of the company's core property business. Just under half of the infrastructure and environment division's revenues come from its transport outsourcing business, which provides highways engineering services for councils.
Waterman had already shut down its small Chinese and Indian operations around the turn of the decade before pulling down the shutters on its Bulgarian and Romanian outposts. Then in mid- 2013, the company quit the UAE before last year's exit from the Russian market, leaving just a small Polish operation in eastern Europe.
These decisions left the engineer operating solely in what Taylor jokingly dubs the "English-speaking, rugby playing countries" – namely Australia, Ireland and the UK.
The bluff, Oxford educated Taylor says that in the UAE the problem was the transient nature of both clients and the workforce. "We found that after two to three years, clients had moved on somewhere else and you are left to building up a new relationship with somebody else."
It's quite cheap to set up somewhere but expensive to pull out. There's never a right time to pull out because there are always projects going through
And while the projects may have been large, they tended to be stop and start. These delays meant, he says, that Waterman's local team could be waiting around for long periods. In addition, he says it was difficult to compete against companies operating from low cost base countries like India and the Philippines.
The problem with Russia meanwhile, where Waterman had been since the early nineties, was that as a stand-alone operation working only in the Russian language, it was very difficult to flex staff resources to meet peaks in demand. "In Russia, everything has to be done in Russian. If they have too much work we can't help them because you can't push the work in there, it's an isolated business."
With a worsening of the economic climate and a generational shift in the company's client base, it became hard to justify remaining in the country. "We felt that resource and the team were better focused on the UK rather than trying to develop business in Russia." Taylor, who has been with Waterman for 33 years and chief executive for seven, admits that the firm's decision to pull out prompted some raised eyebrows. But he believes many sympathised. "I wouldn't be surprised to
see a few more companies pull out," he says. Winding up the Russian and UAE operations cost £1.7m. "It's quite cheap to set up somewhere but it's quite expensive to pull out. There's never a right time to pull out because there are always projects going through."
At the time the decision to leave Russia and the UAE was taken in early 2013, Taylor had more faith in the UK's prospects than many economic forecasters for whom the emerging markets were still flavour of the month. Fast forward two years and the macro-economic picture looks very different, of course, with the UK economy due to have the second strongest growth of the G8 economies this year at 2.8%, according to the IMF, and Russia's economy due to contract by 3%.
But, in the longer term, does it make sense to yoke yourself to a mature but declining market like the UK, rather than rising economic stars, such as China and India? Taylor is unrepentant that focusing on the UK was the right call for Waterman.
"There's no point being somewhere if you can't make any money," he says. "If we are going to be somewhere, we need to make a profit. While they are the two biggest growing economies in the world, we didn't feel that we could generate a profit as engineers in those areas."
Focusing on the domestic market doesn't mean that Waterman has shut itself off to overseas work, Taylor adds. "We will work anywhere, but the most important criterion is if we can use resource in the UK, Australia or Ireland, ideally with a client who can pay us the currency in those locations. We don't want bases all round the world."
The right choices
The company's latest half-year results, which saw 900-strong Waterman's profit rise 57% to £1.1m, bolster Taylor's case. In addition, revenue increased by nearly a third from £28.5m to £36.7m, of which 89% was generated in the UK, a proportion which has increased from two-thirds eight years ago.
And the consolidation of the construction consultancy market means the UK heartland presents growth opportunities. Taylor sees the market dividing into not two but three sectors. In the top tier, mergers between international giants mean "the big boys are getting bigger". Then he sees a "third pack" of smaller and more specialised engineers which are "generally staying the size they are". In the mid-tier, sit a smaller number of multidisciplinary but UK-focused companies, including Waterman.
While the multinational consultants will want to chase big ticket infrastructure projects, he argues Waterman can offer its staple audience of UK property companies a more personal service. "Our guys are very hands on, they are all very involved. You will get top people on the project and the attention of the senior management," he says, able to point to his own involvement on projects like Oxford's Westgate shopping centre in recent years. Meanwhile, unlike smaller and more specialised outfits, the mid-sized firms can offer a range of engineering disciplines to property companies that are still rebuilding their project management capability post-recession.
He insists the company is not "actively seeking" a merger, adding that his major shareholders are happy with his move to focus on the UK. He also rejects the notion that Waterman's scale and UK focus means the company cannot meet its skills gaps by drawing on a wider pool of overseas talent. Waterman, which has hired 196 staff in the last year, is addressing these issues by boosting its regional offices, which it will increasingly use to service the South-east market. "In London you pay more than the going rate for second-rate people. We are not driving the business for revenue growth, it's about servicing clients. We don't want to be in a position where we are recruiting people who we don't consider to be the best."
This interview was published in print with the headline "Nick of time".