Firm has cut 300 jobs - around 8% of workforce
Wates has become the first contractor to announce large-scale redundancies as the industry struggles to deal with the fallout of the covid-19 pandemic.
The privately-owned construction firm has today said a programme of redundancies will reduce staff numbers by about 300, or 8%, as it reacts to the impact of the coronavirus.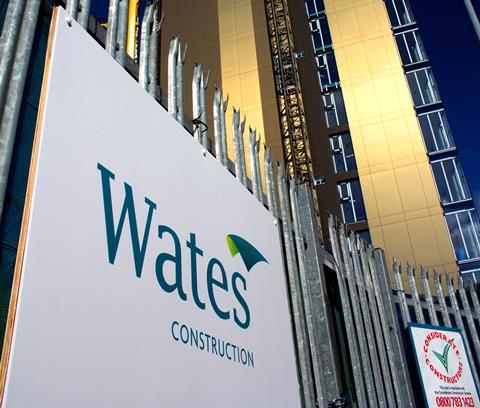 David Allen, Wates chief executive, said while in April the firm implemented a package of measures to protect the business during the covid-19 pandemic, including a furloughing programme and a series of temporary pay cuts affecting staff at nearly all levels, this had not been enough to protect jobs.
He said: "By furloughing a third of our staff and implementing pay reductions nearly seven weeks ago, we acted quickly to protect our people's jobs. However, we cannot escape the economic consequences of the pandemic.
"So, this week, we have begun a process through which we will reduce the number of staff we employ by approximately 300. In taking this difficult step, we will match the size of our business to our forecasted levels of activity, ensuring we continue to offer services of the highest quality and best value to our customers, and remain one of the most financially resilient and sustainable businesses in our sector."
One of Wates most high-profile jobs the £650m Northern Estate Programme is currently under review, with the future of the £4bn restoration and renewal of the Palace of Westminster up in the air.
Wates was one of a handful of firms that kept sites operating largely without pause during the covid-19 pandemic, with work on major schemes - including the aquatic centre for the 2022 Birimingham Commonwealth Games - ceasing for only one day.
Allen said: "While other sectors closed as a result of the lockdown, ours was asked by government to continue working and to adopt new operating procedures.
"I would like to pay tribute to all of my colleagues who have continued to perform a range of essential public services and who have kept our projects progressing safely. They have been extraordinary."
The firm, which employs around 4,000 people, posted turnover of £1.63bn and pre-tax profit of £36.2m last year.