Steve Beechey joins Alumasc in January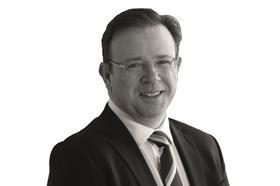 Wates director Steve Beechey is taking on a non-exec role at listed building products firm Alumasc.
Beechey (pictured), who is now on a six week sabbatical from Wates, heading off to Australia and New Zealand, will take up the post at the beginning of next year.
Alumasc recently pointed the finger at bad weather and Carillion's collapse for a downturn in its financial performance.
The firm, which provided the waterproofing on the Shard, saw pre-tax profit fall from £8.1m to £5.4m in the year to 30 June. Revenue fell 6% to £98.4m.
Last week the firm sold its £11m turnover facades business for £4.5m to Northern Ireland firm Kilwaughter Minerals.
Alumacs's facades business, which last year had an operating profit of £600,000, specialises in work to heat homes in the public sector but has been hit by the decision to scrap the government's Green Deal three years ago. Around 20 staff will transfer to Kilwaughter.