Pre-tax profit stays flat in 2017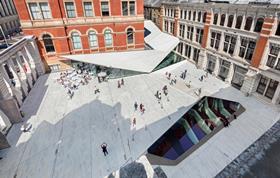 Wates made more inroads into its ambition of becoming a £2bn-turnover firm with income growing 6% last year.
In a snapshot of its 2017 results revealed today, the firm, which last year lost chief executive Andrew Davies to Carillion only for Davies to find himself out of a job after the contractor went bust a week before he was due to start, said revenue had gone up £90m to £1.62bn.
Wates is expecting to hit the £2bn mark by the end of 2020 and it said the latest rise was driven by an 11% hike in income at its property services business, whose work includes looking after thousands of homes for social housing landlords, and a 5% rise in construction revenue.
Its residential arm built 5,000 homes last year which helped inch turnover up at the division by 0.4% to £206m.
Its largest business remains construction, with turnover here up to £935m.
In January, the firm was named as one of three contractors to land work building a new £400m public health science campus and headquarters in Harlow, Essex, for Public Health England and last year completed work on architect Amanda Levete's V&A extension (pictured) in central London.
But Wates only posted a marginal rise in pre-tax profit last year with the number edging up by just £200,000 to £35.7m.
It said that its order book stood at a record £5.1bn with the firm having close to £170m in the bank at the year end.
Wates chairman James Wates said: "These are really positive results, demonstrating our continued success in what has been a challenging year for the sector."
Following Davies' departure at the end of October after nearly four years at the business, Wates appointed David Allen as its acting chief executive.
Allen was promoted from chief financial officer with that role being carried out on an interim basis by Rod Holdsworth who had previously held senior financial roles at Alfred McAlpine, bought by Carillion back in 2007, and engineering consultant Whitby Bird. Wates said a decision on its new chief executive would be taken by the end of next month.
Pre-tax profit margins slipped slightly from 2.3% to 2.2% and Allen said it was looking to get this number up towards the 3% mark. He added: "Clearly we would like to improve margins but I don't think we should constrain ourselves over what is possible."
He said the firm was also looking to improve efficiency by making more use of an offiste factory in York which came with its acqusition of M&E contractor SES three years ago. This manufactures a number of M&E products such as plant rooms but Allen said it was looking at producing bathrooms from the site as well.
Wates' full accounts will be published at Companies House in the coming days.