Speculation over what Andrew Davies will do next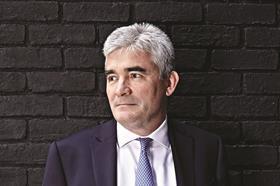 James Wates has revealed that it was his firm which offered to tear up the severance agreement with its former boss Andrew Davies that would have seen him start as Carillion's new chief executive next week.
The chairman of the £1.5bn turnover business said he made the proposal once it became clear Carillion was facing a real risk of going under.
His comments come as speculation grows that Davies, who was at the firm four years after replacing Paul Drechsler, now the president of the CBI, will leave the industry completely after Carillion went bust yesterday – just a week before he was due to formally start at the Wolverhampton contractor.
Davies (pictured) had been due to start on 2 April after leaving the Leatherhead-based firm in early November.
But Carillion announced a couple of weeks before Christmas that Davies's start date had been brought forward by 10 weeks to next Monday and today Wates reveals more detail about its offer to help its then struggling rival.
He said: "It was evident that Carillion had been in difficulties for some time but we at Wates were keen to do what was right to help safeguard the company's future, as a key player in the construction industry.
"This was behind our decision to offer to release Andrew Davies early from his contract at Wates, in order that he could take up his role there as CEO."
Wates added: "We are saddened to see a construction company of Carillion's stature failing in this manner. It is a sad day for the industry."
Davies has not made any public comment since news of his switch to Carillion was announced at the end of October but sources have told Building the 54-year-old took the job because of the challenge it presented.
"He was upbeat about it all, he knew it was a huge task but that was the attraction," one said. "I can't believe he did it, though. What sort of judgement has he shown? I imagine he'll leave the sector, I cannot believe he will turn up at another builder."
A source added Davies will not be rejoining the firm he arrived at in 2013 from defence contractor BAE Systems where he was in charge of the firm's £2bn maritime business.