Contractor doubled credit facility earlier this year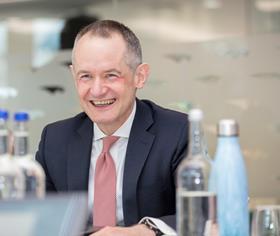 Wates has said it will look at acquisition opportunities after doubling its credit facility to £120m earlier this year.
In 2018, group turnover at Wates dropped – with construction income contracting 9% – but chief executive David Allen (pictured) has said he expects the group's revenue to increase by more than 10% in 2019.
The contractor recorded a net cash balance of £114m at the end of 2018 but Philip Wainwright, the firm's chief financial officer, said a new revolving credit facility will allow Wates to invest "with confidence".
He acknowledged the firm has been "primarily investing in residential," including in land, developments and joint ventures.
But he said Wates would look at all opportunities available to it, with Allen adding: "If something attractive came along, then we would look at it."
Wainwright said: "There is clearly a potential for us to continue with [residential], but equally if opportunities arise in any other areas then we have the ability to flex and to be able to look at those and say would we like to invest in anything that comes our way."
Asked if Wates would consider buying a business from Interserve, Allen said: "I think like any good business you have to be alert for all sorts of opportunities, so if something suitable came to the market we would evaluate it in the normal way."