But chief executive David Allen says firm is confident of 10% revenue growth this year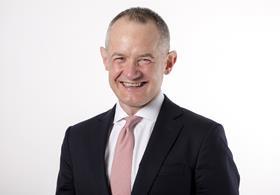 Wates has said its turnover will increase by more than 10% in 2019 as it turns to stockpiling and special contract clauses to see off the threat of delays posed by Brexit.
Yesterday the firm announced its results for the year ended 31 December, revealing its construction turnover dropped 9% while profit nudged up by 1% and revenue across the group remained stable.
But Wates' chief executive David Allen (pictured) told Building: "We are expecting significant turnover growth this year for the group and for construction – and that's growth in excess of 10% [for both]."
Allen said one of the most pressing Brexit issues for Wates was delays in the arrival of building materials or manufactured goods used in fit-out, which could hold up entire schemes.
He revealed the firm had started stockpiling in Wembley, where it's building more than 600 homes for developer Quintain.
"We were talking about bringing in materials early and getting access to warehousing and space, and [Quintain] freed up a bit of land that they own near the site and have allowed us to store the relevant kit there, while we wait to move it on site," he said.
Allen also said Wates had war-gamed Brexit scenarios and developed plans across every single scheme.
And he said the firm had added Brexit clauses into a range of contracts, so it would be not responsible for shelling out extra cash in the event of delays.
"Recently we have put clauses in some contracts that will allow us to deal sensibly with any delays, if they do arise," Allen said.
"We are saying: 'There are these potential challenges and pressures lying ahead, it's not realistic for us to take all of that risk.'
"Our intention is not to simply pass risk back to customers. It is to agree that we will have sensible conversations, and of course that includes things like making sure we won't have very significant damages caused by delays."
Wates said the Brexit referendum caused a "deceleration" in British construction – particularly in commercial – which forced its construction revenue to fall last year.