Contractor's new design boss sets BIM target and says firm wants to work with "the best" architects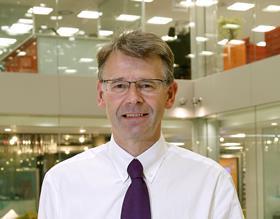 Wates is targeting using BIM on two thirds of its £10m-plus projects within three years, the contractor's group design director Andrew Barraclough has revealed.
Barraclough, who joined Wates from global architecture practice HOK last summer to lead on the expansion of Wates' design and BIM capabilities, said the contractor was "20-25% on track" on its way to its BIM target.
Speaking exclusively to Building, Barraclough said using BIM was essential for the construction industry: "It means we can be very, very efficient when we start construction. It's essential if we're going to reach the government's cost savings targets."
Barraclough said Wates was on course to comply with the government's requirement of delivering BIM level two on all centrally-procured public projects from next year, commenting: "We will achieve that, that's not an issue for Wates."
Wates has "made progression in the last seven years on BIM", Barraclough said, and is now using advanced forms of BIM on a number of projects, including 4D time sequencing and 5D cost modelling.
Barraclough called on clients and consultants to come to contractors earlier in the project design process to achieve maximum savings from BIM.
He said: "We need the data but people come to us too late and then it can be almost impossible [to deliver BIM effectively]."
Barraclough said he was brought in by Wates to expand its design management capabilities, in part to help the firm expand in key target markets, including education, the commercial office market and high-density residential.
Wates' approach is to collaborate with "the best" architects, Barraclough said. "I want to make sure we are working with the best architects. I'm sounding them out so they understand our position.
"Contractors have a reputation for being difficult for designers. But it needn't be that way – it can be much more collaborative."