Funding for 400 factory-built homes is the fourth round of the Innovative Housing Programme
The Welsh government has announced £35m in funding for affordable low carbon housing and energy efficiency improvements.
The funding is the fourth round of the its annual Innovative Housing Programme (IHP), first launched in February 2017 to support modern methods of construction in the housing sector.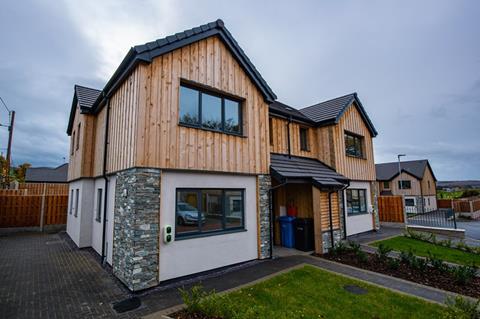 This year's round aims to see 400 factory-built homes produced by Welsh firms and local supply chains and will focus on using local timber to support green jobs and the move towards a low carbon economy, according to a Welsh government spokesperson.
Projects supported by the funding will include 63 timber frame homes built by ClwydAlyn, which will be working with HMP Berwyn to offer training for prisoners.
Pobl Group will also be given £3m to to build over 90 zero carbon social homes in Blaenau Gwent using timber frame designs.
And Tai Tarian will build 55 new homes and retrofit 72 existing ones in Port Talbot, which the Welsh government say will increase energy efficiency and reduce fuel bills for tenants.
The first round of the IHP had a target of 1,000 affordable homes as part of Welsh government ambition to build 20,000 affordable homes by the end of its term in May 2021.
It was given approval for three years with a budget of £90m and was extended in February 2020 by an additional year with a capital gant budget of £25m and a further £10m in loan funding.
Firms must be registered with the Welsh government and be based in Wales to receive funding.