Facility also has automated storage warehouse and control centre tracking freight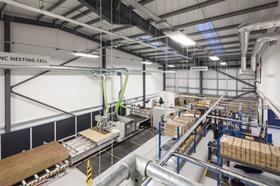 Weston Homes has opened a 75,000ft2 logistics centre and factory to manufacture off-site housing.
The £12m building (pictured) has sections for manufacture, assembly and quality control – as well as office and general warehouse space.
It also has a control centre so materials and goods being freighted from around the world can be tracked via GPS.
The centre has the capacity to process 1,200 container shipments per year.
Components – including cladding, flooring, kitchen and bathroom components – are stored until needed via automated machines and then retrieved according to customer's specification choices.
The manufacture workshop is designed around a series of conveyor belts which transport items to processing machines, precision engineering tools and assembly points.
The factory was built over 18 months in Braintree, near the £257m-turnover firm's headquarters in Takeley, Essex.