Architect already working to overhaul Gascoigne estate
Barking and Dagenham council has approved plans for over 200 affordable homes in the first phase in the long-term regeneration of the Gascoigne West estate in Barking.
Over 60% of the east London homes will be affordable, with rents starting from £134 a week.
White Arkitekter's design (pictured) features a mix of mid- to high-rise blocks and smaller, terraced townhouses, linked with public squares, green spaces, semi-private gardens, private courtyards and a children's play area.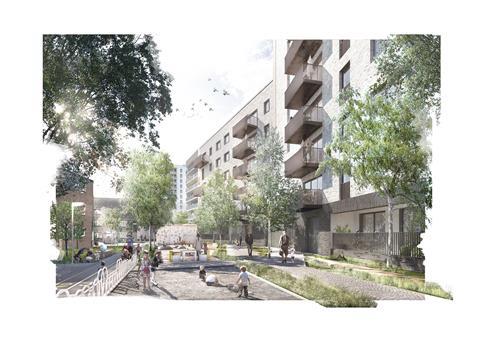 Each new home also has access to private outdoor space in the form of a balcony, terrace or garden.
The targeted carbon reduction of 40.2% beyond building regulations influenced the architectural design, which incorporates solar panels, a high-performance building fabric, advanced specifications, electric car charging points and over 360 new cycling parking spaces.
Phase 1 of the Gascoigne West regeneration, which begins on site in January next year and expected to be complete in March 2022, marks White Arkitekter's second consented scheme for council-owned developer, Be First.
It was also appointed on phase 2 of the Gascoigne East estate revamp to build 526 modular homes in June.