Property investor Mitsubishi Estate Company unveils project team for major new scheme in City of London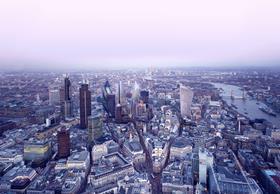 Property investor Mitsubishi Estate Company (MEC) has chosen a project team for a major scheme in the City of London sandwiched between the under-construction Cheesegrater tower and proposed Pinnacle skyscraper.
Architect Wilkinson Eyre, cost consultant Alinea and development manager Stanhope have been chosen to draw up plans for the site, which currently houses two existing buildings, 150 Leadenhall Street and 6-8 Bishopsgate.
Wilkinson Eyre won the commission following an architectural competition, and will prepare feasibility studies for a number of options, ranging from an extensive refurbishment of the existing buildings on the site, to a comprehensive redevelopment.
Plans will be worked up over the next year.
MEC gets vacant possession of the site in 2015 and could deliver a new scheme as early as 2018.
Gerald Eve has also been appointed as planning adviser.
MEC UK managing director Hiroyuki Arimura said: "We are pleased to have been able to assemble such a strong team.
"This project further represents MEC's strong commitment to the UK. Given the excellent location of this site, we believe as the economy strengthens, this scheme will be particularly well timed to take advantage of the expected rise in City demand."