Foster, Nouvel and Hassell were all shortlisted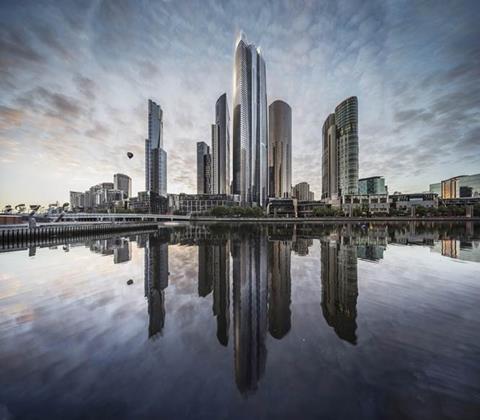 Wilkinson Eyre has beaten Foster & Partners and Jean Nouvel in an international contest to design what could be Australia's second tallest skyscraper.
The 317m Queensbridge Hotel Tower is planned for a site in Melbourne's Southbank district, by Crown, the casino operator run by James Packer.
Crown has previously hired Wilkinson Eyre to design its Sydney development at Barangaroo, upsetting Richard Rogers.
The 200,000sq m Melbourne proposal, reportedly costing $1.5 billion, is already causing controversy in the city on a number of grounds including the shadows that neighbours say it would cast on their homes.
Its height – just five metres lower than Australia's tallest building in Queensland – would also need clearance from the aviation authorities.
The scheme includes a "sculptural air bridge" over a public street which would link the new tower with Crown's existing casino and hotel complex nearby, an intervention that would require special permission.
Crown chief Todd Nisbet predicted the bridge would become a magnet for locals who would want to photograph it.
"It's not feasible in this age of competitive global luxury travel to ask six-star hotel guests to dodge the traffic and wet weather just to visit another facility in the resort," he was quoted as saying. "This discreet yet attractive link is a necessity for a six-star hotel to succeed."
The tower would contain 680 flats and a 388-room hotel. The top of the tower will have a publicly accessible restaurant, lounge and garden.
The scheme is six storeys taller than a previous proposal for the site which was withdrawn around the time of state elections last year.
Paul Baker, director at Wilkinson Eyre, which recently saw pre-tax profits jump 135% to £6.3 million, said: "We approached this project with the ambition to create an elegant and timeless building that will become a new, world-class landmark against the Melbourne skyline. All across the world we are seeing cities embrace iconic developments as they vie for their share of international tourists.
"We are confident that the design of the proposed hotel and the 'one of a kind' offerings like the sky bar at the top of the tower will be must-see destinations in Melbourne. We are delighted to have been given the opportunity to design what we believe will be an outstanding addition to the world's most liveable city."
Opponents include Michael Buxton, professor of environment and planning at local university RMIT, who warned the tower could have serious implications for wind, shading and local character.
"This kind of massive high-rise tower isn't really leading Melbourne anywhere as a city, it's destroying the amenity which really is Melbourne's greatest economic strength," he told the Herald Sun newspaper.
He said developers often advertised the charms of low-rise neighbourhoods in their marketing material – "but then they go about trashing it".
Crown said its existing hotels were consistently 90% full and local politicians have said central Melbourne needs an extra 1,400 hotel rooms.
The tower is slated to open by 2020, by when it could be relegated to third place by Australia 108, a residential tower under construction on the Southbank and due to hit 319m. Crown's partner is builder and developer Schiavello.
The shortlist
Wilkinson Eyre
Bates Smart
Hassell
Foster & Partners
Jean Nouvel
Source
This story first appeared on Building Design