Architect will redesign the Compton and Edrich Stands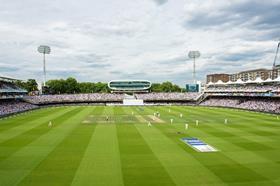 Wilkinson Eyre has been chosen to design two new stands at Lord's cricket ground in London.
The firm, whose projects include Battersea Power Station, Aldgate Tower and the new Crossrail station at Liverpool Street, beat off competition from five other shortlisted architectural practices that took part in the design competition.
It will design the new Compton and Edrich stands at the Nursery End of the ground, which sit either side of the Stirling Prize-winning JP Morgan Media Centre, which opened in 1999.
Detailed work on the structures, which will boost capacity by 2,000, will begin immediately and subject to consent obtained from Westminster City Council and approval of Marylebone Cricket Club (MCC) members, construction work will begin in the summer of 2019.
Arcadis are the cost consultant on the project and Gardiner & Theobald the project manager. Interviews for the structural engineer are understood to be taking place imminently.
The rebuilding of the stands marks the next phase of the MCC Updated Masterplan, which was approved by its members in September.
The first stage of the masterplan was completed last May, with the opening of the new £25m Warner Stand built by Bam. This sits between the Grade II listed Pavilion and Grand Stand, providing seating for more than 2,800 people.
In September, MCC Members voted to proceed with the club's updated masterplan for the redevelopment of Lord's, with a £194m programme of works to be completed by 2032.