Firm says issue helped send profit slumping more than 60% last year
Willmott Dixon has again been forced to make a provision of more than £5m to carry out possible repair work on cladding following the Grenfell Tower fire four years ago, taking the amount it is having to fork out on the issue to more than £11m.
In its 2020 accounts filed at Companies House, the firm said it was adding another £5.4m to the £6.2m it set aside to fix the problem in 2019.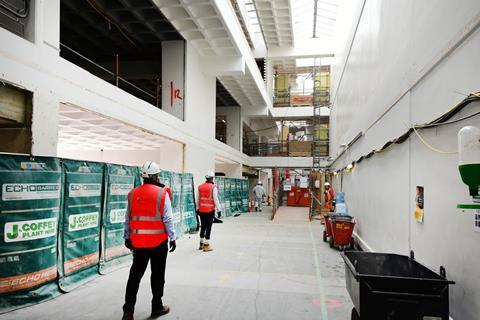 The firm said the figure related to the "evolving and increasingly complex issue of cladding and fire protection to previously completed buildings".
It added that "a natural desire to 'draw a line' under the financial uncertainty [has] led us to conclude upon the need to increase our previous provision by an additional £5.4m".
The firm said almost all of the work under scrutiny had been carried out by WPHV, a subsidiary housing business which went into administration just before Christmas last year.
It said it has so far spent £1.3m of the £11.6m it has set aside, leaving a remaining amount at the year end of £10.3m.
The accounts said Willmott Dion planned to "where appropriate" settle a £7.9m bill with creditors of WPHV, which was formerly known as Willmott Dixon Partnership Homes.
The business was previously Willmott Dixon's primary residential arm and delivered several projects for local authorities and housing associations. But the firm stopped taking on new business in the 2017/18 financial year and was put into administration on 22 December.
Willmott Dixon said the provision and the impact of the covid-19 pandemic helped send pre-tax profit slumping two-thirds last year to £9.8m on turnover down 4% to £1.2bn.
The firm was handed £5.7m in furlough money from the government's Coronavirus Job Retention Scheme after putting around 800 people on the initiative last spring.
Willmott Dixon did not pay a dividend last year and chairman Colin Enticknap said it claimed the furlough money "gratefully and unapologetically" – thought to be a reference to the practice of some firms paying shareholder dividends while hanging on to furlough cash.
Turnover at its biggest business, construction, stayed flat at just over £1bn but work at its interiors business was up 12% to £167m with the firm winning jobs at CBRE's Brindley Place scheme in Birmingham and a job at Gresham Street in the City of London.
The firm said future prospects depended on government responses to new strains of covid-19 as well as to what extent public spending programmes would be affected by the huge cost of dealing with the pandemic with, according to the office for Budget Responsibility, the amount borrowed in the year to April 2021 standing at £355bn – the highest ever figure seen outside wartime.
Willmott Dixon's cash at the bank rose to £98.8m from £93.1m in 2019, it added. It said its order pipeline stood at £1.35bn.