Firm completed first phase of the overhaul in 2009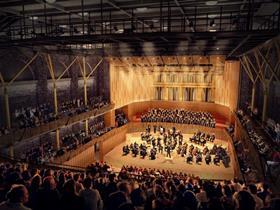 Willmott Dixon has secured a £49m contract to refurbish Bristol's iconic music venue Colston Hall and boost local employment.
The firm, which delivered the first phase of Colston Hall's renewal in 2009 including the building of £20m foyer space, will work alongside architects Levitt Bernstein on the first refurbishment of the building for 60 years.
One of the biggest schemes to be procured under the Southern Construction Framework, the work at Colston, which opened as a concert venue in 1867 and has hosted stellar acts from The Beatles to David Bowie and Jimi Hendrix, includes remodelling the Main Hall to increase standing capacity by 15%.
It will also transform The Lantern facility area within the hall into a versatile performance venue and open up the extensive cellars for the first time in 150 years – creating a new performance and education suite.
The project aims to increase ticket sales by 35% and create 49 additional jobs by 2020-21.
The work will begin in June this year, with the new and improved hall set to open to the public in 2020.
John Boughton, deputy managing director at Willmott Dixon, said: "We are excited to be back delivering this amazing transformation that will make Colston one of the UK's best venues for entertainment."
This is the latest in a string of heritage buildings Willmott Dixon has worked on, with the firm currently transforming the east wing of Alexandra Palace as well as the Old Admiralty Building.