Contractor poaches Berkeley finance director to lead its merged resi businesses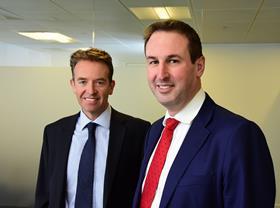 Willmott Dixon has merged its residential divisions into a new company and poached Berkeley Group finance director Nic Simpkin to lead the business.
Simpkin (pictured, right) will join the newly created Willmott Residential as chief executive with Andrew Telfer (pictured, left) promoted to deputy chief executive.
Simpkin joins Willmott Dixon after 13 years working in and leading the finance department at listed housebuilder Berkeley.
Willmott Residential will combine the firm's two development arms, Prime Place and Be:Here, along with its housebuilding division, Willmott Partnership Homes.
The contractor said its new business already has a significant presence in the market, developing homes for sale through Prime Place and private rent through Be:here, with 5,000 units on site or in planning.
In addition, it said its housebuilding division already builds on average 2,000 homes a year.
Commenting on the appointment of Simpkin, Willmott Dixon chief executive Rick Willmott said: "I'm delighted that Nic has chosen to join us; it's a testament to the huge potential he sees in our residential capability.
"I'm confident he'll provide the strategic fire power we need to grow our residential business and I'm very much looking forward to working with him."