Scheme being developed for specialist rental developer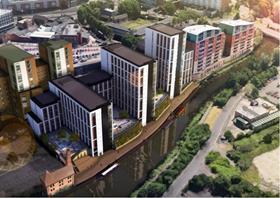 Winvic has been appointed to build 384 apartments for rental by residential landlords Leicester Lettings.
The Northampton-based firm, which in the year to January 2018 posted revenues of £485m, said it is targeting a £250m housing turnover by 2020.
The homes will be set across three buildings designed by architect RG&P, standing at 10, 14 and 16 storeys on Bath Lane in the city centre.
The site formerly belonged to Merlin dyeworks and is next to the river Soar.
Other firms working on the £50m job include local engneering consultant PRP and QS MDA Consulting.