Work suspended on London station jobs
A number of firms working on HS2 jobs have stopped work as fears mount over the practicalities of social distancing on construction sites.
Building understands that the Costain Skanska joint venture (CSJV) – responsible for all enabling works south of the M25, including at London's Euston and Old Oak Common stations – has decided to pause work on site.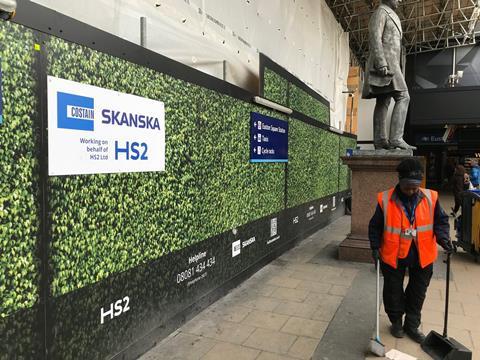 A Skanska, Costain and Strabag team, which together with CSJV is responsible for all London works on the project, is also understood to have stopped work on the £88bn railway project.
The Align joint venture, made up of Bouygues, Volker Fitzpatrick and Sir Robert McAlpine, has also closed its sites.
It is understood the Align team, working on the Chiltern tunnels and Colne Valley viaduct construction, made the decision earlier today.
A spokesperson for HS2 said health and safety on site was the responsibility of contractors, rather than HS2 Ltd.
He said: "To date, HS2 Ltd has been working to ensure business critical and key activities at both our sites and offices were kept going, while following NHS and Public Health England guidance. We are working closely with our joint venture partners, who are responsible for their sites, the health, safety and well-being of their staff and the impact of their work on the adjacent community.
"Over the course of this week and into next, we will be reviewing the majority of works on our construction sites in line with government advice on dealing with covid-19."
Other firms working on the project are understood to still be looking at whether or how they can continue to keep sites open.
The railway had been due to sign the final contracts with civils contractors for the first phase of the project by the end of this month but this now looks likely to be delayed.
A report carried out by the National Audit Office earlier this year found that if the contracts were not under way this month the project was likely to miss its revised opening deadline which has been put at between 2028 and 2031.
Earlier today both TfL and Crossrail confirmed they would be shutting their sites despite government ministers insisting construction sites could remain open if safety procedures were followed.
The number of coronavirus cases in the UK went up yesterday to 8,077, up from 6,735 on Monday, with the number of deaths up to 422 from 337.