Amnesty International warns Qatar 2022 firms to clamp down on abuses following allegations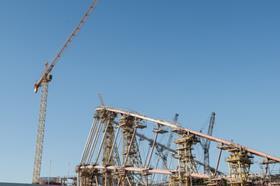 Migrant workers building a stadium to host the semi final of the Qatar 2022 World Cup have faced systemic abuses, including cases of forced labour, a hard-hitting report by Amnesty International alleges.
Based on interviews with 132 construction workers on the redevelopment of Doha's Khalifa International Stadium, Amnesty claims it has uncovered instances of abuse with all of these workers.
Some of the abuses alleged included substandard and overcrowded accommodation, delays in payment of salaries, deception by recruitment firms, retention of passports and failure to provide or renew residence permits.
Amnesty also alleged it encountered cases it believes amount to forced labour, where labourers were allegedly coerced into working by threats of non-payment of wages, deportation, or not being allowed to leave Qatar.
In a statement, the organisation responsible for delivering 2022 World Cup projects, the Supreme Committee for Delivery & Legacy, said it was "committed to ensuring the health, safety and well-being of every worker".
The committee said the conditions identified by Amnesty were "not representative" of the whole workforce on the Khalifa project and many of the issues raised by Amnesty had been addressed by June 2015, after the bulk of Amnesty's research had taken place.
Construction firms need to be aware of where the risk sits, and the urgency and priority there should be to get the right processes in place

James Lynch, Amnesty International
The committee's statement also said that the two labour subcontractors identified in Amnesty's report – Seven Hills and Blue Bay – stopped working on the project last June and "are no longer eligible to work on future projects, until they demonstrate they are compliant with our Workers' Welfare Standards".
The committee said a third firm, Eversandai, had "gone through a significant rectification process" but was nonetheless "banned from subsequent FIFA World Cup projects until they can demonstrate sustainable improvements".
No UK firms are directly involved in delivering the Khalifa stadium project, but James Lynch, deputy director at Amnesty, told Building the report should serve as a warning to UK firms involved in other 2022 World Cup projects, or considering bidding for work on the scheme.
Lynch noted that most abuses happen at the level of labour subcontractors, but firms all the way up the supply chain should take responsibility for mitigating these risks: "Construction firms need to be aware of where the risk sits, and the urgency and priority there should be to get the right processes in place to identify potential abuses and how to mitigate this."
In 2014 the Supreme Committee introduced a stringent Workers' Welfare Standards charter, which all firms working on World Cup projects are obliged to abide by.
Originally built as a 20,000-seater stadium in 1976, Khalifa International Stadium is being extended to fit 40,000 spectators for the World Cup.
We are aware of the opportunity our work in Qatar represents to facilitate the improvement of working conditions in the country

BeSix spokesperson
The project is being delivered by a Qatari-Belgian contracting joint venture between Midmac and Six Construct (part of BeSix) for client the Aspire Zone Foundation, which in turn works for the Supreme Committee.
Eversendai Qatar, a subsidiary of Malaysian company Eversendai, is employed on site to carry out specific elements of the refurbishment. A number of labour supply companies are also employed on site to provide workers – it is at this level of the supply chain where most instances of abuse occur, according to Amnesty. Midmac, Six Construct and Eversendai Qatar are not labour-only subcontractors. Amnesty did not attribute direct labour abuses to Midmac or Six Construct, but claimed abuses took place "under the direct supervision of Eversendai" and that 24 workers employed directly by Eversandai were housed in substandard accommodation in Al Wakrah at the time they were interviewed.
In its response Eversendai said Amnesty's allegation that a labour camp in Al Wakrah was home to Eversendai workers was "completely unfounded". However, the firm said there had been "some shortcomings in our workers' accommodation in other areas in the past", but this matter had been resolved "by the middle of 2015" and it says it is now in compliance with the Workers' Welfare Standards.
Eversendai confirmed it engaged labour subcontractors Seven Hill and Blue Bay on Khalifa "for a limited period" but had "stopped dealing with both companies months before [Amnesty's report]". Eversendai says it engages direct labour "wherever possible" and will "apply the best practices in health, safety and worker welfare standards across our projects".
The Supreme Committee said 40 companies are currently engaged at Khalifa and that Amnesty's research was not representative.
In a statement BeSix said it had itself identified welfare issues through its own inspections and "acted accordingly" and the situation "was already rectified more than half a year before Amnesty International first contacted us about the matter". However, it welcomed Amnesty's recommendations and said it would seek "to go further than applying local rules" in improving welfare.
The firm added: "We are aware of the opportunity our work in Qatar represents to facilitate the improvement of working conditions in the country".
Aspire Zone and Midmac were unavailable for comment. But in responses issued by these organisations to Amnesty, seen by Building, they said they were already taking steps to improve workers' conditions throughout their supply chains.
Midmac said it would terminate contracts with subcontractors if it found firms that did not correct deficiencies; Aspire Zone said it would work "hand in hand" with the supreme committee to launch positive labour initiatives across all World Cup projects.
The organisations criticised Amnesty for not drawing their attention to the issues sooner, as Amnesty's research was primarily conducted in the first half of 2015.
Lynch told Building Amnesty required this time to verify the accounts given by the workers and to clarify the various organisations in the supply chain.
When contacted by Building, a Seven Hills employee said the firm had worked on Khalifa for "three months" and described Amnesty's findings as "all fake". Blue Bay was unavailable for comment.
Amnesty once again called on Qatar to end its "Kafala" sponsorship system, under which migrant workers must obtain their employer's permission to change jobs or leave the country – a system it argues lays workers open to abuse.