Workload growth fastest since mid-nineties, according to the industry survey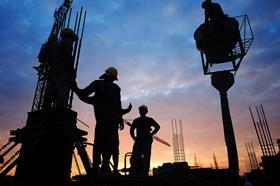 Construction workloads grew in the first three months of the year at the fastest rate since at least the mid-nineties, according to the latest survey data from the RICS.
The surveyors' institution's quarterly construction market survey found that the balance of people reporting growth in workloads reached +43 in the first quarter, the highest figure since the survey started in 1994. It said this growth was being driven by workload growth in private housing, commercial and industrial construction, with all of these sectors reporting highest ever figures for growth.
The RICS said the survey also showed that growth was being hampered by increasing skills shortages, with 41% of respondents reporting shortages in QSs.
The news came after forecasting firm Experian said construction output will grow faster than previously expected over the next three years, at 4.5% this year, 4.7% in 2015 and 3% in 2016.
All the projections were revised up from Experian's last set of forecasts in the winter, when it projected 4.2% growth this year, 4.4% in 2015 and 2.7% in 2016.
Experian said it upgraded its forecasts "on the back of better performance in the housing sectors and an end to the decline in public non-residential construction a year earlier than forecast in the winter".
Alan Muse, director of built environment at RICS, said: "Now that the industry is experiencing an upturn in workload that is broadening out across the whole of the UK, it must ensure it has the capability to capitalise on these opportunities."