Developer makes final investment decision on Walney wind farm in the Irish Sea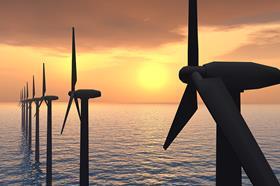 Renewable energy developer Dong Energy has decided to build the world's largest offshore wind farm in the Irish Sea after making a final investment decision on the project.
The developer has given the go-ahead to the Walney 3 wind farm, which combined with the previous Walney 1 and 2 phases will create the largest wind project in the world with an overall generating capacity of 1,027MW.
It said the final investment decision has been taken after securing all necessary consents from relevant authorities, completing site assessments and having signed the majority of the contracts for supply and installation to build the project.
Samuel Leupold, executive vice president at Dong Energy, said: "British offshore wind has seen phenomenal growth in recent years.
"A prerequisite for long-term growth in the industry is that offshore wind eventually can compete on costs with other energy technologies."
"Building Walney Extension will bring us one step closer to that target and I'm satisfied to see that we keep bringing costs down, while continuing to expand the UK supply chain."
The scheme was one of the first projects to win a government contract through the contracts for difference (CfD) regime with a strike price of £150 per MWh for the first 15 years of the project's operation.