Industry group says firms will have to source product from overseas if Scunthorpe site cannot be saved
Contractors will have to get used to the price of steel on their jobs going up and down because they will have to use more imported product unless a buyer can be found for British Steel, the steel construction's industry body has warned.
British Steel went into compulsory liquidation yesterday after being wound up in the High Court.
The Official Receiver is now in charge of the company following a breakdown in rescue talks between the government and owner Greybull Capital which was looking for a £30m injection of cash.
Private equity firm Greybull bought the European Long Products arm of the business, based in Scunthorpe, from Tata Steel for £1 in 2016. Greybull renamed the business, which was previously known as Corus, British Steel.
For now, British Steel is continuing to trade and supply construction industry customers but if no buyer is found the firm will be wound up.
Sarah McCann-Bartlett, the director general of the British Constructional Steelwork Association, said any closure of the key Scunthorpe Steelworks site, which provides almost half of the sections steel used in the UK, would mean contractors having to import product from European mills – and be exposed to the currency fluctuations between the pound and the euro.
"The pricing is going to be more affected by exchange rates – steel prices are always affected by the price of iron ore and scrap – but, more significantly, contractors will be exposed to [these] changes in exchange rates."
Already some contractors have voiced worries about steelwork contractors having to source steel from overseas and jack up prices as a consequence.
One, who asked not to be named, told Building: "We've got a job where one of the big boys has got a lot of tonnes going in so it is a worry British Steel is in this state. We've costed the steel package at one price but exchange rates mean it could be another."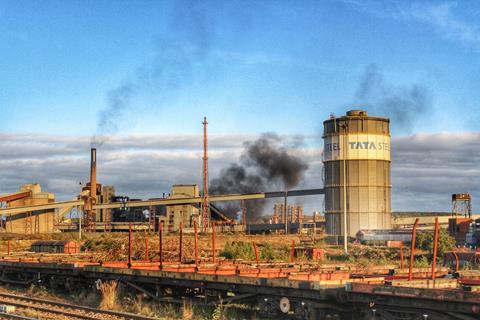 But McCann-Bartlett said if work permanently stopped at the Scunthorpe Steelworks, distribution centres would ensure they had high stocks of sections in order to manage a transition.
Even if EY, the firm who has taken over running of the company, cannot find a buyer she said firms would initially continue to have access to enough UK-sourced steel sections.
"In the UK we have large and efficient sector of steel stockholders and distribution centres – which is where most steel contractors purchase their steel," she added.
In a statement, the Official Receiver said: "[British Steel] is continuing to trade and supply its customers while I consider options for the business.
"Staff have been paid and will continue to be employed."
British Steel employs 5,000 people with 3,000 based in Scunthorpe.
Greybull's deal three years ago included two mills in Teesside, an engineering workshop in Workington, a design consultancy in York, along with a mill in northern France.