Faithful + Gould surveyor Aislinn Wood named overall young surveyor of the year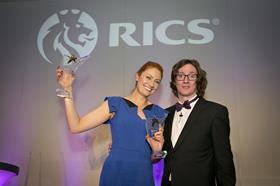 Young professionals in UK surveying have been celebrated in the RICS' first awards ceremony for young surveyors.
Surveyors at RLB, GVA, Vinci, Colliers, Faithful+ Gould, Valuation Office Agency, Morris Marshall & Poole, Nextphase, Mott MacDonald and Savills all picked up awards at the inaugural RICS Matrics Young Surveyor of the Year awards, held last Friday and hosted by comedian Ed Byrne.
Aislinn Wood (pictured, with Ed Byrne), a project manager at Faithful + Gould, won the overall award for surveyor of the year, as well as the project manager of the year award.
Sean Tompkins, chief executive of RICS, said he was "extremely proud of everyone who was nominated" and that the high standard of nominations was "testament to the hard work and determination of younger professionals".
Jon Sealy, UK and Europe managing director of Faithful + Gould, said: "Retaining and developing the next generation of young professionals is the single biggest issue we face as an industry.
"These awards give independent, objective recognition and showcase the achievements of young surveyors for others to aspire to.
"To win two of the biggest categories in quantity surveying and project management, and to then see Aislinn crowned the overall young surveyor of the year, was simply outstanding."
RICS' full list of winners
Building Surveying: This award recognized the outstanding achievements in all areas of building surveying and building control. Sam Bensky MRICS Senior Building Surveyor at Rider Levett Bucknall beat off stiff competition in this, the most popular category, with his proactive approach and willingness to take on challenging schemes including his work in high containment laboratories.
Commercial Agent: Sahar Rezazadeh, a graduate surveyor working in the retail division of GVA Property Consultancy, was acknowledged for her rounded understanding of the industry, gained through working in locations such as Abu Dhabi, Cardiff, London and Birmingham. This category recognised those showing initiative in the process of buying, selling, valuing or leasing business properties.
Facilities Management: An emerging market for the RICS and a category that sought young individuals involved in managing services such as relocation, property management and utilities. Owen Gower, Commercial Manager at Vinci Facilities, was awarded the accolade in this category for his work with whole-life costings. He embodies the strategic FM we promote.
Property Manager: David Chatten MRICS, Surveyor in Colliers International's Investment Property Management team is recognised for his exceptional work carrying out tenant liaison and property maintenance work. His enthusiasm, professionalism and creativity earned him the recognition he richly deserves.
Project Management: Aislinn Wood MRICS, Chartered Project Manager, Faithful+Gould is recognised for having an exceptional ability to manage projects efficiently, economically and demonstrating excellent communication and management skills. Aislinn is firmly customer oriented and strives to exceed client expectations.
Public Sector/Academia: This award recognized those inspirational young members working within the public sector and academia. Elizabeth Drake MRICS, Principal Surveyor at the Valuation Office Agency impressed the judges with her ability to transform systems within the Home Office following the introduction of HM Treasury's National Property Controls
Quantity Surveying: Another category which saw an impressive number of nominations from individuals who demonstrated strong analytical and communications skills. Andrew Horsman, Senior Quantity Surveyor, Faithful+Gould in Newcastle upon Tyne, was recognized for his confident, calming attitude to clients and being able to demonstrate an outstanding ability to resolve conflicts and difficult situations.
Residential: Kathryn Davies MRICS, Surveyor, Morris Marshall & Poole was crowned winner in this category for her initiatives around rental policies and relevant legal matters surrounding all aspects of letting property. Kathryn was recognized for her determination for collaboration and consistency.
Planning/Development: Seen by the judging panel as an outstanding nomination, Christopher Whitehouse MRICS, Managing Director, Nextphase Development Ltd, at the young age of 24 years old took a calculated risk in setting up his own practice deep within the recession, with no capital backing. His drive, motivation and sheer determination has seen his company grown to a team of six providing planning, environmental and design advice.
Rural: Matthew Watson MRICS, Associate Director at Savills, stood out for the judges for his work in Yorkefleet – an area badly affected by last winter's floods. He was recognized for going that extra mile and working beyond the call of duty. He is now working on preventative measures alongside various clients.
Valuation: Nina Rudarakanchana, Associate Director at Savills, was recognised for demonstrating excellent skills in valuing assets including property, land and valuables.
Mentor of the Year: special recognition was given to those who support young aspiring surveyors of the future with this award. It went to to Ian McKie of Mott MacDonald, for the impressive variety and quantity of help that he's provided over the past decade.