22% of Britain's energy was provided by 12 nuclear power stations, but all but three were set to be closed by 2020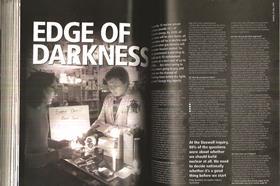 Edge of darkness
With enabling works already underway on the site of Hinkley Point C and EDF set to make a decision in September on whether to go ahead with the nuclear power plant, we take a look back to when Tony Blair declared nuclear power was "back on the agenda with a vengeance".
In 2006, 22% of Britain's energy was provided by 12 nuclear power stations, but all but three were set to be closed by 2020. In response, as part of its energy review, the British government began plans to build a new generation of nuclear power stations.
George Hay reported: "What all of this means is that the construction industry will probably be called on to deliver five nuclear power stations, possibly with more than one reactor on site, over the next 20 years. But the last nuclear programme was not shining testament to the UK's ability to carry out civil engineering on this scale. The stations got bogged down in acrimonious public inquiries, programme delays were endemic and cost overruns topped 100%."
The government's route to getting the stations built was complicated by challenges from environmental groups, with a High Court ruling throwing out the 2006 energy review a year later. But by 2009 the government had pushed forward with its plans and identified 10 sites which could accommodate reactors, including Hinkley.