Documents sent to council reveal it wants restrictions on spectator numbers lifted if it's forced to stay at temporary home for rest of season
More details of the contingency plans Spurs outlined last week in case its new stadium is not finished this season have been revealed in planning documents sent to Brent council.
Spurs has struck a deal to use its temporary home at Wembley stadium for the rest of the season as a fallback if there are more delays to completing its 62,000-seat ground, which is being built by Mace.
After discussions with the club, Wembley National Stadium, which operates the venue, submitted a planning application to the council for a variation on the capacity cap for Spurs' remaining home games this season in the event the club requires it.
In documents submitted last week by Wembley's planning consultant, Lichfields, it is stated that the club has a maximum of 17 home games left at Wembley – a mixture of league, FA Cup, Champions League or Europa League and League Cup fixtures – to take place between 15 January and 12 May.
Planning restrictions mean Spurs has played several games with capacity limited at 51,000. The club is asking for a temporary increase in the cap so 10 games can be played with a capacity of 62,000 and a further seven – including its league games against north London rival Arsenal and east London side West Ham – for a 90,000 capacity.
The period in question does not cover its home league game against Manchester United but in a statement a club spokesperson said: "The Man United fixture date is not included as part of this planning application as it is already accounted for within the full-capacity game allowance that Wembley has in place."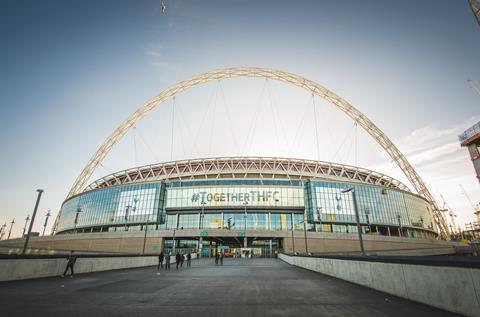 Building understands the club is pushing contractor Mace to get its stadium ready in time for its game against United – on 13 January.
About 2,000 workers are still on site – down from a peak of 3,800 in July – with the remaining work centred on commissioning the thousands of fire alarms at the 62,000-seat ground.
In an 82-page planning statement, Wembley National Stadium asked Brent planners for the issue on capacities "to be resolved swiftly to provide THFC with certainty in their preparations for the remainder of the season".
It added: "Within this temporary period [15 January-12 May], THFC will complete the redevelopment of its stadium in Tottenham."
The club said: "Nothing has changed since our last statement and suggesting anything should be read into this one sentence in isolation in terms of our new stadium opening date is complete scaremongering and trouble-making."
Spurs has already written off any games being played at its new ground this side of Christmas and has promised an update early next month on where its remaining fixtures will be played.